No one said moving from a presidential to a parliamentary system of government would be easy, as the first session of Kyrgyzstan's newly elected parliament has revealed.
One month after Kyrgyzstan voted in a new parliament, deputies elected in the October 10 polls have assembled. The first day fell short of expectations, however, with a handful of the 120 elected deputies failing to show up at all, and numerous deputies drifting in late to receive their mandates.
The most conspicuous absence was that of Kamchybek Tashiev, leader of the Ata-Jurt (Fatherland) party. Ata-Jurt received the most votes in the October 10 election but failed to win enough to gain a majority and now, despite having 28 seats, appears positioned to be left out of the governing coalition to play an opposition role in parliament.
No official reason for Tashiev's absence was issued by Ata-Jurt, but the party leader's no-show was magnified by the failure by 20 other party members to arrive on time for the session.
The presence of some 300 egg-throwing protesters outside the parliament building provides one clue to explain Ata-Jurt's lackluster showing. The protesters, most of whom were relatives or friends of people killed in the April violence that chased former President Kurmanbek Bakiev from power, were expressing their opposition to former members of Bakiev's government taking up seats in the new parliament.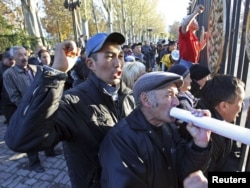 Relatives of people killed in the April violence protest outside parliament.
With several of Ata-Jurt's deputies, including Tashiev, having served in Bakiev's government, they were obvious targets. The rally led to some small scuffles between the police and protesters trying to block the new deputies' access to the parliament building.
Hungry For Stability
Inside the building, the chairman of the Central Election Commission, Akylbek Sariev, opened the first session.
"The main task for us is, together with you, to help preserve stability for another five years, because in the current situation that is the most important thing for state organs to fully establish," Sariev said. "We believe we have to accomplish what we started and therefore we put our trust squarely upon your shoulders."
The October elections were held under trying circumstances, following the April unrest in which Bakiev was ousted and with the memory of June's bloody interethnic violence in the south of the country still fresh in voters' minds.
The oldest member of the new parliament, 65-year-old Tashbolot Baltabaev of the Ata-Meken (Fatherland) Socialist Party, reminded deputies of their responsibilities, and called for a minute of silence to remember the more than 500 people who were killed in Kyrgyzstan since April.
Baltabaev pointed out that "the days of authoritarianism and the family-clan system that ruled us for many years was not easy to get rid of. During the months of April, May, and June many citizens gave their lives for the democratic changes we've been fighting for."
That might be one of the last topics on which all deputies in the new parliament agree.
No Agreement On Coalition
There still is no word on progress toward forming a ruling coalition among the five parties that won seats. The Social Democratic Party, which took the second-most seats (26), was reported to have been in talks with Respublika, a new party that won 23 seats. The two parties still need at least one more party to join them to gain a majority.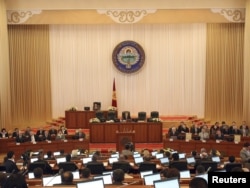 There is still no word on which of the five parties might form a government.
Many assumed that third party would be Ata-Meken, led by Social Democrat leader Almazbek Atambaev's sometime ally Omurbek Tekebaev. But Atambaev has recently talked about forming a broad coalition with Ata-Jurt and the Ar-Namys (Dignity) party led by Bakiev's former prime minister, Feliks Kulov, with no mention of Ata-Meken.
President Roza Otunbaeva had hoped coalition talks would have been concluded ahead of the opening of parliament, but there is no indication that the parties are any closer to agreeing on one. This will have an immediate impact on the new government, since a coalition is needed to name new ministers -- first and foremost a prime minister to head the government.
Otunbaeva also spoke at the opening session today, calling on deputies to "rise above political intrigue" and cast aside "personal ambitions" in order for a new prime minister to be named and a government formed by November 27.
Otunbaeva reminded the deputies that if they cannot form a coalition and government then, under the new constitution (Article 84, Paragraph 2), the president must choose and name a majority faction. After Otunbaeva spoke, parliament adjourned without giving any date for the next session.

Demanding Seats In Parliament
In another part of Bishkek, one of the 24 parties that competed in elections but failed to win any seats -- the Butun (United) Kyrgyzstan party -- held a protest outside the Birinchi Mai Court that is still reviewing the party's challenge to the election results.
Butun Kyrgyzstan has repeatedly claimed that it was cheated out of seats when the Central Election Commission added several hundred thousand people to the list of eligible voters on election day. The commission's decision to throw out results from several voting areas in Russia, set up for migrant laborers from Kyrgyzstan, has also been hotly disputed by the party.
One of Butun Kyrgyzstan leaders, former Justice Minister Marat Kaiypov, said today that party supporters were prepared to overthrow the new government if the court did not rule for Butun Kyrgyzstan to be given seats in parliament.
RFE/RL's Kyrgyz Service and Merhat Sharipzhan contributed to this report