NARYN, Kyrgyzstan -- Some 3,000 people rallied today in the central Kyrgyz city of Naryn to demand that President Kurmanbek Bakiev's son, Maksim, resign as head of a state agency and leave the country, RFE/RL's Kyrgyz Service reports.
Maksim Bakiev, 32, is the head of the Central Agency for Development and Investments, a newly created position that he was appointed to by his father on November 2.
The protesters demanded that Maksim Bakiev leave Kyrgyzstan by March 16 otherwise they will hold large protests in the region and make political demands.
Demonstrators said the agency led by Bakiev has "misused its power" and made serious errors and miscalculations when privatizing "industrial facilities, mineral resources, and mines in the region."
Protesters also demanded authorities lower prices for electricity and heating.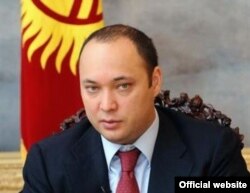 Maksim Bakiev
"Dear people, I urge you to support me in demanding that Maksim Bakiev leave Kyrgyzstan within one week," one of the Naryn residents who addressed the rally, Tologon Kasymaliev, told the cheering crowd. "Please, join me in this demand."
Leading opposition activists and politicians arrived in Naryn to support the demonstrators, including former Kyrgyz Foreign Minister Roza Otunbaeva, who is the leader of the Social Democratic faction in parliament, and Temir Sariev, the leader of the opposition Ak Shumkar (White Falcon) party.
Naryn is Kyrgyzstan's largest region by territory and the area's capital, also called Naryn, has a population of some 52,000 people.