BISHKEK -- The head of Kyrgyzstan's State Security Service has accused relatives of ousted President Kurmanbek Bakiev of planning and instigating recent ethnic clashes along with the Taliban and other regional Islamic militant groups, RFE/RL's Kyrgyz Service reports.
Keneshbek Duishebaev told journalists in Bishkek today that he has information that Bakiev's son Maksim met with activists of the Islamic Movement of Uzbekistan (IMU) in Dubai in April.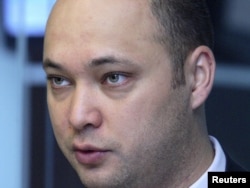 Maksim Bakiev
Duishebaev provided no evidence and there is no way to independently confirm the claims.
In May, Duishebaev said, two members of Bakiev's family held talks in Afghanistan with Taliban field commanders and representatives of the IMU and the United Tajik Opposition. He said they discussed "the operation to destabilize Kyrgyzstan's southern regions."
The United Tajik Opposition dissolved in the years after the 1997 end to Tajikistan's civil war, but a small number of its former members are thought to have continued militant activity in Afghanistan.
According to Duishebaev, the Bakiev family paid up to $30 million to implement their destabilization plans. Duishebaev added that 15 IMU fighters of Uzbek origin came to southern Kyrgyzstan from Pakistan via Tajikistan to provoke the ethnic clashes between local Kyrgyz and ethnic Uzbeks in the southern regions of Osh and Jalal-Abad. He said the group was led by an Uzbek citizen known as Ilhom.
Over 250 people were killed and hundreds injured during the ethnic clashes that started in Kyrgyzstan's southern city of Osh on June 10-11 and later spread to Jalal-Abad. About 75,000 ethnic Uzbeks fled from southern Kyrgyzstan to Uzbekistan's Andijon region. The majority of them returned to Kyrgyzstan this week.
Kurmanbek Bakiev, who had to resign and flee to Belarus after mass antigovernment protests in early April, told journalists in Minsk on June 23 that he had nothing to do with the current violence in southern Kyrgyzstan.