(WATCH: RFE/RL correspondent Nikolay Pavlov toured the devastated Uzbek district of Madzhirintol in Osh with residents who described what happened during the recent unrest.)By RFE/RL
OSH, Kyrgyzstan -- Troops and local residents in Kyrgyzstan's southern city of Osh have begun dismantling barricades erected by ethnic Uzbeks after bloody clashes earlier this month that, according to interim leader Roza Otunbaeva, could have left as many as 2,000 people dead.
There were no initial reports of resistance to the efforts, despite fears that the move could lead to further violence between the ethnic Uzbek and Kyrgyz communities in Osh. According to some reports, ethnic Uzbeks and Kyrgyz were jointly helping soldiers to tear down the roadblocks, which were made of overturned trucks, the hulks of burned out vehicles, broken furniture, and sandbags.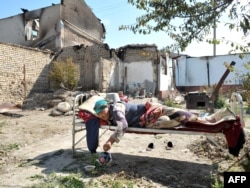 An ethnic Uzbek woman lays on a bed in the middle of her burned-out house in Osh on June 20.
Meanwhile, Kyrgyzstan's interim government has extended until June 25 a state of emergency in Osh that had been due to expire on June 20.
RFE/RL correspondent Bruce Pannier, who is in Osh, reported that the extension has raised doubts about a national referendum on a new constitution, scheduled for June 27. The new constitution would formally change the system from presidential to a parliamentary system.
"I know that people in Bishkek, some other government officials, have called for delaying the holding of the referendum," Pannier said. "But Roza Otunbaeva seems determined that the 27th of June is the day of the referendum."
The participation of Kyrgyzstan's ethnic Uzbek population would be crucial to the success of any such referendum.
"Everyone that I've talked to in these Uzbek neighborhoods points out that they don't have any representation in the government at all -- the soldiers are Kyrgyz, all the police are Kyrgyz," Pannier said. "If they hold the referendum and then there is something the Uzbeks don't like, they are going to say, 'This isn't our constitution. This is a Kyrgyz constitution.' "
LISTEN: Correspondent Bruce Pannier described efforts to restore a sense of calm in Osh and the humanitarian situation on the ground:
"The Uzbek population inside these neighborhoods are even more frightened by this," Pannier said. "They don't want to remove the roadblocks because they are afraid they will let in crowds of angry Kyrgyz. And they don't want to see the military either because they don't trust them at all."
Military helicopters today dropped leaflets announcing Myrzakmatov's ultimatum on one Uzbek neighborhood. But Pannier said many ethnic Uzbeks he spoke with in Osh were unaware of the deadline.
In the capital, Bishkek, meanwhile, a top U.S. envoy was calling for an independent international investigation into the violence that has devastated southern Kyrgyzstan.
U.S. Assistant Secretary of State Robert Blake made the call during talks with Otunbaeva on June 19 and after Blake had visited several crowded refugee camps in neighboring Uzbekistan.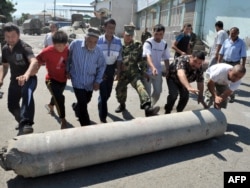 Ethnic Uzbeks and Kyrgyz jointly dismantle a street barricade in Osh.
"Members of the provisional government assured me of their intention to launch an investigation into the causes of the violence that has occurred recently in southern Kyrgyzstan," Blake said. "Such an investigation should be complemented by an international investigation by a credible international body."
Blake said an international investigation would bolster confidence between the ethnic communities of southern Kyrgyzstan and would help ensure that refugees are able to return safely to their homes.
"Such investigations would help all of us understand how such violence can be prevented in the future, so that secure conditions can be established for the safe and voluntary return of the 110,000 refugees from Uzbekistan and the estimated 300,000 internally displaced persons here in Kyrgyzstan," Blake said.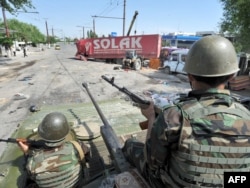 Kyrgyz troops look on as ethnic Uzbeks and Kyrgyz jointly dismantle a street barricade in Osh.
Blake also announced the release of millions of dollars in U.S. relief and reconstruction aid that would compliment planeloads of tents and relief equipment already sent to the region by Russia and France.
"The United States has committed over $32 million for programs in humanitarian relief, reconstruction, community stabilization, and expects additional efforts to be announced in the near future," Blake said. "As part of this, the United States plans to provide initial contributions of up to $5 million to help those displaced by the violence."
Meanwhile, aid workers continue to deal with a humanitarian crisis on both sides of the Kyrgyz-Uzbek border. More than 300,000 people are thought to have been displaced inside Kyrgyzstan, while another 100,000 have fled into Uzbekistan. Besides the makeshift camps on either side of the border, many displaced people are living in desperate conditions on the outskirts of Osh.
Pope Benedict has urged ethnic communities in Kyrgyzstan to renounce violence and resist provocation so that peace can be restored. During remarks to pilgrims in St. Peter's Square, the pontiff expressed sorrow and offered prayers for the victims of the clashes.
written by Ron Synovitz in Prague, with additional agency reports