BISHKEK -- The official number of swine-flu cases in Kyrgyzstan has been put at 61, RFE/RL's Kyrgyz Service reports.
Health Ministry spokesman Zuridin Nurmatov told RFE/RL that some 1 million surgical masks have been imported this month, adding that more than 2 million more masks will be made available through pharmacies.
Local experts estimate that about one-third of Kyrgyzstan's 5.5 million people will be infected by the H1N1 virus this season.
Swine Flu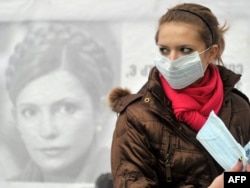 H1N1 Virus
As the fall flu season hits, fears of a swine-flu pandemic have grown in Eastern Europe after Ukraine saw a massive outbreak.
Click here
for RFE/RL's coverage of the virus's spread.