OSH/PRAGUE -- Just days ago, Kholida Ahmedova led a relatively comfortable life along with her husband and their children in a house in Cheryomushki, a predominantly Uzbek neighborhood in the southern Kyrgyz city of Osh.
Everything changed so quickly, she says. One minute the family was sleeping at home peacefully, the next minute the neighborhood was under attack. People were being killed and houses set ablaze.
Ahmedova is one of several ethnic Uzbeks who sought refuge in Otkhona, an affluent Uzbek neighborhood in the south of Osh, shortly after bloody ethnic clashes broke out in the city.
"It all started around 2:30 a.m. on June 11, when we were woken up by loud noises and people screaming," says Ahmedova.
All of a sudden there was panic, she says, and some men were shouting, "The Kyrgyz are coming in anger."
A few hours later, she says she took her children and fled while her husband stayed behind along with other men to protect what was left of their neighborhood.
Cheryomushki was almost entirely destroyed, with many buildings burned to the ground, in several days of ethnic clashes there and elsewhere in the area.
"We don't know where our men are," Ahmedova says. "We've just managed to escape with our children, run for our lives. That's how we're here."
Many women and children from Cheryomushki headed to the Uzbek border, joining tens of thousands of people fleeing Kyrgyzstan's Osh and Jalal-Abad provinces, where the ethnic violence killed more than 250 people.
Some 75,000 ethnic Uzbek refugees and their children made it across into Uzbekistan before Tashkent closed the border, saying it couldn't take any more. That's how a group of ethnic Uzbeks ended up in Otkhona.
A local businessman, Hairullo Mamadhonov, provided shelter and food for people like Ahmedova, who now had nowhere else to go.
"I have nothing at all," Ahmedova says, adding that she wonders how she will be able to rebuild her life. "My house, all our belongings, and documents were burned down," she says, her voice trembling. "I don't know where my husband or my parents are."
WATCH: Police in Osh raid an ethnic Uzbek neighborhood in search of drugs, which some witnesses suggest were planted.
Nightmare With No End In Sight
Wearing traditional Uzbek clothing -- a colorful long-sleeved dress over trousers and a kerchief tied over her hair -- Ahmedova says her ordeal seems to be never-ending.
On June 21, the neighborhood was one of several raided by local security forces seeking to clear them of barricades and search for weapons.
But inhabitants allege they were robbed by security forces.
"They told us, 'Why do you need any money? You'll die in 10 days anyway,' and took away our money and jewelry," Ahmedova says. "There were policemen among the men. They came in big groups of some 20 to 30 people."
"At least I managed to save my 14-year-old son from being arrested by the men," Ahmedova says, explaining that she hid her son under the stairs of the walled compound where most of the refugees were staying.
Inhabitants allege that government forces detained several ethnic Uzbek men and boys during the raid, including Mamadhonov, accusing them of hiding drugs and weapons inside humanitarian aid supplies.
Ergash Akhmadjonov, an Uzbek man in his 70s, says the armed men arrived at the compound around 4:30 p.m. on June 21 asking where hostages were being held.
"They made the young men lie on their stomachs, beat some of them, and took them away," Akhmadjonov said.
The refugees insist they don't have any weapons or drugs.
Men Taken Away
Women in the compound say they saw at least four men, hired by Mamadhonov to prepare meals for the refugees, being taken away by the police officers during the June 21 raid.
The whereabouts of the men is unknown. An RFE/RL correspondent in Osh says local officials insisted that only Mamadhonov was being held.
Zamirbek Moldoshev
One Osh official, Deputy Commandant Zamirbek Moldoshev, has acknowledged that "some instances" of violence by government forces – including the beating and robbing of ethnic Uzbeks -- might have taken place during the recent raids. The office of the Kyrgyzstan's Prosecutor-General has launched a criminal investigation into the case.
Authorities, however, maintain government forces were searching for weapons, drugs, and hostages being held by ethnic Uzbeks in Otkhona and other places. Security officials say 40 explosives and 20 guns were confiscated during several such operations in the Osh and Jalal-Abad regions in recent days.
RFE/RL's correspondent says Kyrgyz forces brought a Kyrgyz elder -- an aksakal, or community leader -- to talk to ethnic Uzbeks in Otkhona the day after the raid to try to build trust between local communities. But he says the refugees were too upset and angry to listen to what the aksakal had to tell them about Uzbeks and Kyrgyz being able to forgive and forget.
On the morning of June 21, government forces had removed makeshift barricades to Otkhona to open roads for aid distribution.
Several hours later, Uzbek refugees were trying to put back the barricades, saying they no longer trusted the Kyrgyz.
with contributions from RFE/RL's Uzbek and Kyrgyz services
Kyrgyz Crisis Coverage
Clashes In Kyrgyzstan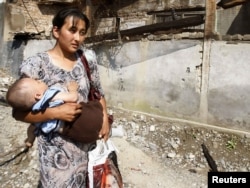 Full RFE/RL coverage of the ethnically charged violence that has shaken southern Kyrgyzstan since June 10. More