Kyrgyz officials say more than half of the ethnic Uzbeks who fled Kyrgyzstan's Osh and Jalal-Abad regions amid this month's clashes have returned from refugee camps in Uzbekistan.
Some 70,000 Kyrgyz nationals have returned so far, they say.
The deputy head of the Kyrgyz border service, Cholponbek Turusbekov, earlier told journalists that more than 10,000 had returned within the previous 24 hours alone.
The number of returnees could not be independently verified, but a spokeswoman for the UN High Commissioner for Refugees (UNHCR) in Uzbekistan, Natalia Prokopchuk, confirmed that "significant numbers of refugees" were returning.
Welcoming Neighbors
Reuters said Uzbek soldiers called names over a loudspeaker as women and children collected their belongings and boarded buses for the short ride from their camps to the border-crossing point.
One returnee who'd fled to Uzbekistan with her three children, 40-year-old Jamilya Khaidarova, spoke to RFE/RL's Kyrgyz Service after coming back to her home in the Jalal-Abad region.
"Now we are staying in our home town of Bazar Korgon, in Kyrgyzstan," Khaidarova said. "Roads are open and our neighbors were very happy to see us; they have been waiting for us. We were 78 people coming together in one bus. We safely came back together with all relatives. Our houses haven't been destroyed and we found that everything is OK here."
Another Bazar Korgon resident, Asanbay ajy Khabirov, said most of his neighbors had come back and that "our life is getting better. We regularly get humanitarian aid such as oil, rice, flour."
"Our family members came back safely home," he said. "Eighty percent of the people have been back to the mahallas [local communities] and only 20 percent remain [away]. The situation is good; all people are friendly to each other."
Another returnee was more apprehensive.
Minura Valiyeva, who was among the refugees returning to their burned-out homes in the city of Osh, spoke to Reuters in the village of VLKSM on the Kyrgyz side of the border.
"[We are returning full of] bitter feelings," Valiyeva said. "We are afraid that the same might happen again; we don't wish anybody anything like this."
She added that she was uncertain of what she would find in Osh.
Jalal-Abad Oblast Governor Bektur Asanov, who visited refugee camps in Uzbekistan's southeastern Andijon region on June 22, told RFE/RL's Kyrgyz Service that assistance would be provided to the returned refugees.
"I can guarantee as governor of the Jalal-Abad region -- please don't trust any provocative statements -- that hopefully everything will be good," Asanov said. "It has been decided from the financial side that all people whose houses were burned down or destroyed will receive compensation money. We've got around 500 tons of food in Jalal-Abad, and we are giving it to all those who are returning. Those people whose houses were burned down are getting tents and mattresses. Next week we will start giving out construction materials and money."
The Toll Of Violence
As refugees begin to trickle back into their ruined neighborhoods, the cash-strapped Kyrgyz government faces the massive cost of reconstruction.
Aid agencies have said up to 1 million people may have been affected by the violence, including 300,000 displaced internally and 100,000 who fled to Uzbekistan.
The United States has announced that it intends to provide a total of more than $48 million to programs for humanitarian relief, reconstruction, and community stabilization in Kyrgyzstan and the border region of Uzbekistan. More than $20 million of that total has been provided or authorized so far.
Large-scale unrest has ceased in the country's south. But Elisabeth Byrs, spokeswoman of the UN Office for the Coordination of Humanitarian Affairs, said on June 22 that insecurity and ethnic tensions were hindering humanitarian operations in southern Kyrgyzstan.
Separately, the Organization for Security and Cooperation in Europe (OSCE) said it was leading talks involving European Union foreign ministers on the possible deployment of a police force in southern Kyrgyzstan.
Kimmo Kiljunen, the OSCE Parliamentary Assembly's special representative for Central Asia, told reporters in Bishkek that an international police operation would create an "atmosphere of trust."
Some fear a constitutional referendum on June 27 could trigger new violence. The referendum, if passed, would reduce the president's powers and strengthen the parliament. But opponents of holding the plebiscite note that many people in Osh will simply be unable to vote.
The OSCE said it will not send short-term observers to monitor the referendum due to "the current security situation." However, it said 13 election experts based in Bishkek and 12 long-term observers deployed across the country would monitor the vote. Kyrgyzstan election commission member Galia Alymbekova said about 100 foreign observers were expected to arrive to monitor the voting.

Reuters quoted Akylbek Sariev, the chairman of the Kyrgyz Central Election Commission, as saying that six ethnic Uzbek women working in preparation for the referendum were briefly held hostage in Osh on June 21 before being released unharmed.
The interim government that took power after President Kurmanbek Bakiev's ouster in April has accused his supporters of fueling the recent violence in an attempt to derail the referendum.
At a press conference on June 23 in the Belarusian capital, Minsk, where he has sought refuge, Bakiev said he had "no intention" of influencing Kyrgyz politics or the referendum.
"In no way am I trying to influence [Kyrgyz] politics, or the referendum, or anything else, or even pass judgments, but still they blame us for everything," Bakiev said. "I'm not going to take any part in what's going on in Kyrgyzstan today."
Bakiev also denied accusations that he funneled money stolen from Kyrgyzstan to Belarusian President Alyaksandr Lukashenka to help pay for Belarus's Russian gas debt.
Kyrgyz authorities announced on June 22 that they were seeking to move parliamentary elections forward by a month to early September in a bid to ease tensions. The deputy head of the interim government, Omurbek Tekebaev, said on national television that "legitimate organs of power must be formed with the least possible delay."
Meanwhile, officials in Kyrgyzstan's southern Jalal-Abad Oblast say they have detained 12 suspected organizers of the ethnic clashes between local Uzbeks and Kyrgyz, according to RFE/RL's Kyrgyz Service.
written by Antoine Blua based on reports by RFE/RL Kyrgyz Service correspondent Gulaiym Ashakeeva and Bohdan Andrusyshyn of RFE/RL's Belarus Service

Kyrgyz Crisis Coverage
Clashes In Kyrgyzstan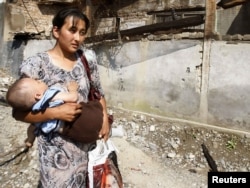 Full RFE/RL coverage of the ethnically charged violence that has shaken southern Kyrgyzstan since June 10. More