Lebanon Votes In Key General Election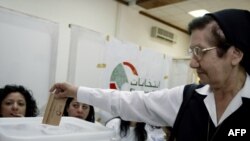 (RFE/RL) -- Lebanese voters streamed to polling stations on June 7 to cast ballots in a general election widely viewed as setting the country's future political course.

The race for the 128-seat parliament is a tight contest between the current Western-backed ruling coalition and the Shi'ite militant group Hizballah, with the winner likely to clinch victory by just a few seats.

Polling stations across the country opened at 7 a.m. local time and close 12 hours later. Early returns are expected later on June 7 and official results as early as June 8.

Saad al-Hariri, the son of slain former Prime Minister Rafik al-Hariri and leader of the March 14 coalition that currently holds a majority in parliament, called on the country's 3.2 million eligible voters to go to the polls.

President Michel Suleiman said the voting process was running smoothly and called on voters not to aggravate political tensions. He made the comments after casting his ballot early today in his hometown of Amchit, north of Beirut.

"Yes, I am very happy with the way the operation is unfolding, especially since it is taking place in one single day. It was a big test for the nation's security and legal bodies," Suleiman said.

"I call for less of this tiresome political rhetoric," he continued. "Let's go forward together to build Lebanon. If we are able to fix the situation in Lebanon, everyone will benefit from it. If we are not, we will all lose; there won't be any winner if the current tension continues."

Some 50,000 soldiers and police have been deployed to prevent violence in the tightly contested vote.

But former army chief Michel Aoun, the leader of a major Christian faction allied with Hizballah, lashed out at the government for what he described as poor security.

"Authorities have no security plan to prevent a dangerous situation from arising during the voting process," Aoun said. "We warned them, at the negotiating table they all agreed, but they did nothing to avoid this abnormal situation. The situation today is not good. How can they allow this?"

Scores of foreign observers, including former U.S. President Jimmy Carter, are monitoring the election.

Speaking at a polling station in Beirut, Carter predicted the vote would be "safe and fair and peaceful and successful." He urged the Lebanese parties and their foreign backers to accept the results.

The vote will shape the government for the next four years.

A win for Hizballah, which the United States considers a terrorist organization, and its allies could bring isolation to Lebanon and possibly renewed tensions with Israel. It could also boost the influence of Syria and Iran, Hizballah's staunch backers.

The rival coalitions are at odds over a number of key issues, including ties with Syria and the fate of Hizballah's guerrilla army, which is stronger than the state's security forces. The group says its guerrilla army is crucial to defending Lebanon against Israel.

This year's election will largely be decided by the votes of Christians, who back rival groups.

Hizballah's coalition includes the Shi'ite movement Amal and a major Christian faction led by former army chief Michel Aoun. Its opponents are the overwhelmingly Sunni Muslim supporters of Hariri, allied with several Christian and Druse factions.

The vote comes amid a tumultuous political situation sparked by the 2005 assassination of Rafik al-Hariri in a car bombing. The pro-Western factions won the elections that followed the slaying, but have been paralyzed by the fierce power struggle with Hizballah and its allies.

With material from agency reports.