Schools have been closed for the summer holidays, but learning hasn't stopped for many children in the eastern Tajik valley of Rasht, a picturesque and remote mountainous area once known as a bastion of the country's Islamic opposition.
It seems to be a growing trend in the Rasht Valley that parents send their children to local mullahs to get what they consider basic religious education and ethics.
Such classes are not sanctioned and their curriculum is not checked or verified by education authorities.
According to children who attend these informal classes, mullahs teach them the Arabic alphabet and basic knowledge of Islam along with moral principles, such as respecting parents. Some mullahs even use Farsi-Tajik classic literature masterpieces, notably the medieval-period poets Saadi and Hafez's works for teaching moral principles for children.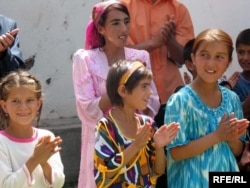 Tajik children in the Rasht Valley
One Rasht parent, Hikoyat Dodarkhojaeva, says her two sons' behavior has improved significantly since they started learning religious values and ethnics from their local mullah. They have become more obedient and respectful, the mother says proudly.
Parents in Rasht complain that public schools don't teach children the moral codes, family values, and religious principles they reckon are "very important" for children's upbringing.
Tajikistan has
outlawed unsanctioned madrasahs
along with unregistered mosques. Mullahs in Rasht, too, have been banned from running religious classes.
Rasht is considered to be one of the most religious and conservative areas in the predominantly Muslim country. It was a stronghold of the Islamic opposition forces that fought against President Emomali Rahmon's secular government during the five-year civil war in the 1990s.
The government in Dushanbe has brought the valley under its full control but some
small-scale skirmishes
-- linked to former opposition elements --
still take place in the area
from time to time.
It is a widespread belief that many local residents in Rasht still treat the central government with suspicion.
Rasht residents, however, do not link their children's religious education classes to being conservative or overly religious.
And parents don't call these de facto classes "schooling" or "madrasah." For them it's merely "spending a few hours with a respectful mullah to learn moral values."
-- Farangis Najibullah