CHISINAU (Reuters) -- The leader of Moldova's centrist Democratic Party, viewed as a key figure in forming a coalition in parliament, has said talks would begin immediately with other liberal groups elected to the assembly.
"Today we begin a dialogue with the parties of democratic orientation," Marian Lupu told Reuters in an interview. "This is the first step.... We hope that in the end the parties of democratic orientation should work out a common position based on the understanding of common national interests."
It was "absolutely vital," he said, to launch talks later with the Communists, who lost ground in this week's election but remain the largest group.
Lupu said a failure to form a viable coalition able to elect a president would cast Moldova back into crisis "and I do not believe that the country will be able to endure all this without huge irreparable losses."
Moldova Votes Again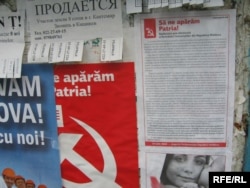 #moldovavotes
Through the eyes of RFE/RL correspondents and editors, guest bloggers, and other contributors who are following the July 29 national elections from the streets of Chisinau and far afield. Plus tweets and pics.
More