Upon emerging from five years of strict and invasive Taliban rule, many Afghans looked forward to a media and cultural environment freed from constraint.
Afghan journalists were equally eager to answer the call, bolstered by the establishment of some 400 newspapers and magazines, 15 television channels, and dozens of radio stations after the fall of the Taliban in 2001.
But despite the apparent successes, Afghanistan's ambitions of free media have been pitted against conservative norms and intimidation, leading many journalists to place their survival above all else.
That requires abiding by numerous unwritten rules. Sometimes it means turning a blind eye to political corruption. The country's powerful warlords are never to be criticized, and religious issues are best left avoided. Addressing problems associated with drugs and kidnappings comes with the risk of violent retribution.
Fawzia headed to Herat University to study journalism soon after the Taliban's ouster allowed women to reclaim their right to education.
Now working as a radio journalist in the western city of Herat, the 33-year-old says she uses a pseudonym when she files reports critical of government officials or other powerful personalities. "I know no one would protect me if I get into trouble because of my work," she says. "I have to take care of my own safety."
Fawzia adds that a colleague "faced such problems recently. I can't reveal her name or her case. She couldn't report it to the police. Instead she went to human rights groups, but they said, 'We cannot do anything to protect you.'"
Dangerous Work
While the Afghan government has stated its support for the development of independent media, political and religious leaders alike have recently exhibited their reluctance to seeing what they consider outside cultural values spread within Afghanistan.
On March 23, prominent Muslim clerics called on television stations not to air programs considered anti-Islamic or immoral in nature.
A day later, the program editor of Emrooz, an independent television station in Kabul, was arrested for refusing to censor images of women's bare limbs in the foreign soap operas and movies it broadcasts. The Culture Ministry's Commission for Monitoring Media Misconduct accuses Emrooz of undermining traditional Afghan values.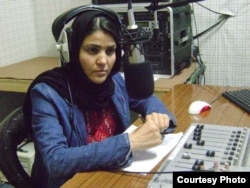 Fawzia uses a pseudonym when she reports on sensitive issues.
Offending any number of elements in Afghan society can have violent consequences.
The Paris-based media watchdog Reporters Without Borders (RSF) has registered 24 physical attacks, 35 cases of death threats, 14 arrests, and seven kidnappings involving journalists between June 2007 and January 2009.
RSF said that in that period, local NGOs have documented 50 press-freedom violations in Afghanistan, 28 of them by the authorities and six by the Taliban.
Two media workers were found guilty of blasphemy in 2008 -- one was sentenced to death, and another to 20 years in prison.
In the past two years, at least five journalists, including two women -- Zakia Zaki and Shekeba Sanga Amaj -- have been killed in connection with their work.
The most recent death occurred on March 10 in Kandahar, when 23-year-old cameraman Ahmad Jawed (also known as Jawed Yazamy), who worked as a freelancer for Canadian media outlets, was killed in a drive-by shooting.
The killing was followed by peaceful demonstrations by journalists in Herat and Kandahar, while reporters and journalism students in Kabul protested the growing pressure on media.
Unless the government takes steps to ensure journalists' safety and to punish those who have killed or attacked reporters, demonstrators in Kabul warned, they would refuse to cover the country's presidential election in August
Many Hurdles
For women journalists, the challenges are even more formidable.
Despite the Herat region's reputation of being relatively tolerant toward women working or studying, Fawzia is careful to wear a long, wide chador when conducting interviews, or taking part in press conferences.
"Society hasn't yet accepted female reporters. Starting from families to even educated circles and ordinary people in Afghanistan can't yet accept the fact that a woman can become a reporter," Fawzia says. "They say that as a journalist, women have to go to places with men, they would appear on television, their voices would be heard on the radio and so on."
Rahimullah Samandar, the head of Afghanistan's Independent Journalists Association, says that the biggest taboo for Afghan journalists is expressing views on Islam and the way the religion is practiced in the country.
Afghanistan's powerful Ulema Council has forced a number of private television stations to stop airing programs deemed immoral and un-Islamic by the religious body, and is able to issue fatwas against journalists who comment unfavorably on religion.
"The presence of a very powerful, very influential religious body that has power over the president, government, and judiciary is a big problem," Samandar says. "Journalists were imprisoned because the powerful religious body does not allow the court to judge the case independently. Even courts in Afghanistan are under the influence of the Ulema Council."
Addressing the government in general, Samandar laments that many officials "simply cannot accept the idea of free media.
"They want to have power over journalists, they want to control the content of media," he says.