VLADIKAVKAZ, Russia (Reuters) -- A year after Russia defeated neighbor Georgia's military bid to retake a pro-Moscow region from rebels, Russian President Dmitry Medvedev has said the war had redrawn the map of the Caucasus for good.
At a ceremony to decorate officers and soldiers who took part in the five-day conflict, Medvedev said the 58th army had prevented the extermination of South Ossetians, who broke from Georgian rule in the early 1990s.
Russia recognized South Ossetia and Abkhazia, a breakaway Georgian region on the Black Sea, as independent states after the conflict and has guaranteed their security.
"Last year's events have finally redrawn the political map of the Caucasus," Medvedev told the 58th Army, which spearheaded Russia's riposte, in the North Ossetian capital Vladikavkaz.
"The recognition of South Ossetia's and Abkhazia's independence was the only possible solution," he said. "This decision will not be reviewed."
Medvedev later told a delegation of South Ossetians that recognizing their region as an independent state had been a tough -- but correct -- decision.
"The recognition was a difficult step. Until now there are illusions among some of our international partners that this was a temporary decision, that Russia is maneuvering, that it can be forced into giving up recognition," he said.
"There will be no rowing back, we will move only forward."
The war killed at least 390 civilians and at its height displaced more than 100,000. An unfulfilled cease-fire pact, sporadic gunfire and the withdrawal of monitors from pro-Western Georgia's two rebel regions keep alive the risk of renewed war.
Georgian President Mikheil Saakashvili says Russia fueled separatism and invaded before Tbilisi acted, a charge Moscow has dismissed. Georgia says the invasion was long planned by its old Soviet master as punishment for Georgia's pro-Western politics and bid to join NATO.
Candle-Light Ceremony
The brief war rattled Western confidence in oil and gas routes running through Georgia and skirting South Ossetia.
Western states condemned Russia's counterstrike as "disproportionate" and the European Union and NATO froze talks with Russia, a major supplier of energy to Europe.
A year later, ties are back on and Medvedev said the conflict had not damaged Russia's international relations.
Ossetians marked the anniversary with a candle-lit memorial in the main town Tskhinvali late on August 7 timed to begin at the hour the Georgian assault began.
"Georgia's military potential today is now much higher than it was before August 2008," South Ossetian leader Eduard Kokoity said after opening a "genocide museum" into the conflict that was built amid the ruins of a house destroyed in the war.
"But our situation is much different today. Today, at our request, Russian military bases are here. They are a reliable guarantee of peace and stability," he said.
Russia has around 2,000 troops stationed in South Ossetia and Prime Minister Vladimir Putin told reporters said Georgia should have learnt a lesson about the dangers of using force.
"With the current Georgian leadership nothing can be ruled out. But it will be much more difficult for them to do it," Putin said in a pooled report from the Black Sea city of Sochi, just a few dozen kilometers from the border with Georgia.
Chronology Of The Russia-Georgia Conflict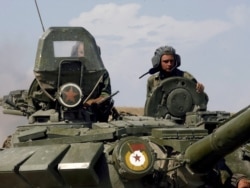 Chronology Of A Conflict
One year after war broke out between Russia and Georgia, many issues remain unresolved. South Ossetia and the breakaway region of Abkhazia unilaterally declared independence, tens of thousands of Georgians are still displaced, and political tensions between Tbilisi and Moscow are simmering. Here is a look back at the key events in the conflict over the past 12 months. Play