MOSCOW -- The Russian film journal "Iskusstvo kino" (Art of Cinema) is the oldest film publication in Europe. Founded in 1931, it outdates both Britain's "Sight and Sound," and France's "Les Cahiers du Cinema."
But its time-honored reputation wasn't enough to save "Iskusstvo kino" from being forced from its premises this month at the order of the head of the Russian Cinematographers' Union, Nikita Mikhalkov.
Editor Daniil Dondurei says the ejection was revenge for the journal's decision to back veteran director Marlen Khutsiyev, not Mikhalkov, in elections to pick a union head.
"After I didn't vote [for him] and my colleagues all voted for Khutsiyev, Nikita Mikhalkov made the decision to throw us out," Dondurei says. "We decided it was better to go out on the street but remain an independent journal. Because if we become dependent, there's no sense in it at all."
The eviction of an industry stalwart like "Iskusstvo kino" is just the latest Shakespearean twist in a bitter battle over the future of the Russian film industry.
At the center of the fray is the 63-year-old Mikhalkov -- once a beloved Soviet film actor and now one of Russia's most famous directors, whose close Kremlin ties are a reminder that culture and politics remain deeply entwined in post-Soviet Russia.
Close To The Kremlin
Mikhalkov is an unquestioned member of Russia's cultural royalty, born to a family of painters and poets. His brother, Andrei Konchalovsky, is himself an esteemed film director. His father, Sergei, authored the lyrics to the Soviet national anthem (as well as the current Russian anthem). Mikhalkov's family has always enjoyed warm relations with the power elite before and after the Soviet collapse.
Despite critical looks at the country's Stalinist past in works like "Burnt By The Sun" -- for which he won a U.S. Academy Award for best foreign film -- Mikhalkov is an unabashed fan of Vladimir Putin, even directing a hagiographic film about the then-president on the occasion of his 50th birthday.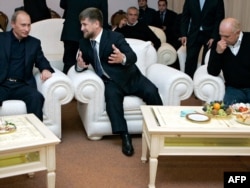 Vladimir Putin (left) with Chechen leader Ramzan Kadyrov (center) and Mikhalkov following the release of "12"
Together, the two men last year launched a government advisory panel on the Russian film industry that will be headed by Putin. The move sparked fears among critics and filmmakers that the Kremlin may be seeking to harness moviemaking for its own ideological ends.
Mikhalkov's most recent film, "12," may serve as a template for the future of Russian filmmaking. The film examines the consequences of Russia's wars in the North Caucasus by portraying the jury trial of a young Chechen man accused of murdering his stepfather, a retired Russian Army officer.
While "12" proved popular, many critics found the film -- and particularly Mikhalkov's own role, as a former KGB officer serving as the jury foreman, too eager to portray some Russians as paternal, understanding observers of the Chechen conflict.
Many see films like "12" as setting the tone for Russia's $500 million-plus film industry. Russia in recent years released a number of big-budget historical epics that reflect the Kremlin's drive to burnish the national image.
These include films like "Admiral," a portrait of White Army commander Aleksandr Kolchak, and "1612," a depiction of the Polish-Muscovite War.
Battle For Union Leadership
But as recently as December 2008, the cultural world was still ready to push back against political pressure. That was when Dondurei and other members of the Cinematographers' Union gathered for a congress to elect a successor to Mikhalkov, who was stepping down from the post after serving as its head for 11 years.
Delegates were already frustrated by Mikhalkov, whom they accused of mismanaging union funds and doing little to support the Russian film industry. They were further disenchanted when Mikhalkov presented his preferred successor, 39-year-old Mikhail Porechenkov.
Porechenkov, known mainly for his roles in action movies and as the host of the TV series "Battle of the Psychics," was not a popular choice. Many at the congress were incensed that an actor, and an undistinguished one at that, could be put in charge of a body previously led by the cream of the country's directors.
Opposition was growing among the 400-plus delegates. Ultimately, the congress rejected Mikhalkov's candidate, voting in 83-year-old Khutsiyev instead. Within months, however, the December vote was subjected to a court inquiry because of alleged procedural violations.
A new congress was held in March to conduct fresh elections, this time pitting Khutsiyev against Mikhalkov.
Many in the Moscow film community cried foul, including director Yuly Gusman, who refused to attend the gathering, which was held at the Gostiny Dvor exhibition center, a stone's throw from the Kremlin.
"What took place at Gostiny Dvor had so much PR support, so much administrative and financial support that it turned into a cinematic spectacle -- a televised spectacle with a two-hour report that didn't contain a single word of truth," Gusman says.
During the congress, Mikhalkov accused his detractors of being pro-Western liberals and revolutionaries. He also alleged his opponents had spent $400,000 on a press smear campaign.
A second election saw Mikhalkov returned to his former post at the helm of the union, and -- according to his critics -- ready for revenge.
'Keep Quiet -- Or Else'
"Iskusstvo kino" has not been the only victim of the election. Khutsiyev has left VGIK, the most prestigious film school in the country. Despite denials by the rector, many believe he was forced out.
For Russian filmmakers who have differences with Mikhalkov, the lesson is clear,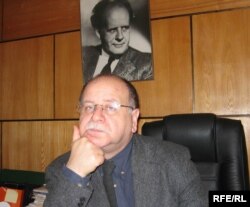 Daniil Dondurei says those who speak out against Mikhalkov "must be punished."
says. If you want to have a successful career, stay quiet.
"There are those who do agree with his conception; those who disagree, but keep quiet and think they will be able to survive in the world of Mikhalkov culture," Dondurei says. "Then there are those few who talk about it. Those who speak have to be punished."
Still the list of those who have spoken out against Mikhalkov is impressive, and includes such legends of Russian film such as film directors Eldar Ryazanov and Aleksei German, theater directors Yury Lyubimov and Mark Zakharov, and animator Yury Norshtein.
The election controversy has been a bitter experience for the Cinematographers' Union, which was the first of the artistic unions to rebel against attempts by Soviet authorities to impose a leader.
Union members held their first election in 1986 -- a step that Dondurei credits with helping to usher in the era of glasnost that led to the collapse of the Soviet Union.
But he says that now "it's going backwards. Nikita Mikhalkov names himself the head so as to go backwards and close the doors of freedom closed definitely."
Yury Bogomolov, a culture critic at official Russian newspaper "Rossiiskaya gazeta," says that it's a sign of tightening control.
"It seems the head of the union, and maybe the country, are looking for a loyal sector within the intellectuals who can be relied upon," Bogomolov says. "Not by force but by intellect."
RFE/RL's Russian Service contributed to this report