MINSK -- Health officials in the Belarusian capital, Minsk, say the flu epidemic is over in the city, RFE/RL's Belarus Service reports.
Alena Fisenka, chief of the city epidemic control service, told journalists today that 177,000 Minsk residents, about 10 percent of the capital's population, had flu and respiratory diseases in the period between November 2 and November 30.
Currently some 3,000-3,500 flu patients are being registered in Minsk each day.
In mid-November, the number was 13,000-14,000 people per day.
Fisenka did not say if there were any cases of swine flu (H1N1) in Minsk during the same period.
Swine Flu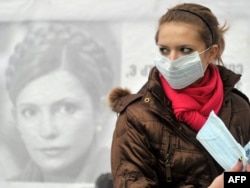 H1N1 Virus
As the fall flu season hits, fears of a swine-flu pandemic have grown in Eastern Europe after Ukraine saw a massive outbreak.
Click here
for RFE/RL's coverage of the virus's spread.