Elections in Bosnia-Herzegovina appear to have perpetuated the country's persistent ethnic divisions.
With the votes counted, results show that in the contest for the tripartite presidency, Muslim and Croatian voters have chosen moderates who favor cooperation. But in the Serbian entity, the winning candidate stands for separatism.
In a complicated day at the polls on October 3, Bosnians voted not only for the country's thee-person joint presidency, but also for the central parliament, several regional parliaments, and the Bosnian Serb presidency.
As full preliminary results emerged on October 4, attention has focused on the tripartite presidency -- and it appears that the frail Bosnian federation has not been able to overcome its deep ethnic divisions.
Both the Bosniak and the Croatian seat have gone to moderates who believe strongly in a unified Bosnia. They are Bakir Izetbegovic, son of late wartime President Alija Izetbegovic, and the present incumbent Croatian member of the presidency, Zeljko Komsic.
Both these politicians spoke optimistically about the future in remarks to reporters before the results were known.
"We are going, in my opinion, to stabilize the situation in Bosnia and Herzegovina and to bring a better future to citizens of Bosnia and Herzegovina which means peace, better conditions for development of the economy," Izetbegovic said.
The reelected Croatian member, Komsic, told voters that he would not fail them.

Old Fault Lines
But the chance of a new start, avoiding the mistrust of the past, has been eclipsed by the victory of incumbent Nebojsa Radmanovic, who backs Bosnian Serb separation, in the vote for the Serbian presidential member.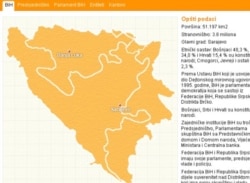 INTERACTIVE MAP (click to enlarge)
Correspondents say that Radmanovic's reelection means that the old ethnic fault lines will persist in the Bosnian leadership, foreshadowing further political stagnation at home and dimming the prospects for eventual membership of the European Union and NATO.

The EU has told Bosnia that admission is contingent on a stronger central government.

Lengthy EU- and U.S.-led negotiations over constitutional changes that would simplify and centralize the political setup were put on hold earlier this year in hopes that it would be easier to find a compromise after this weekend's elections.

U.S. State Department spokesman Philip Crowley urged the newly elected leaders of Bosnia-Herzegovina to find "common ground" as they look to the future.

"We look forward to the formation of a government which is committed to tackling the outstanding constitutional and other issues needed to place the country on a firm path to Euro-Atlantic integration," Crowley said.

In the Republika Srpska, the Serbian entity in Bosnia-Herzegovina, Milorad Dodik enjoys a large lead and appears headed for election as president according to initial returns. Dodik, a hard-line nationalist who is currently the prime minister, threatened secession from Bosnia during the election campaign.

Turnout in the vote -- the sixth general elections in Bosnia since the end of the 1992-95 war -- was some 56 percent, the highest since 2002.

The AFP news agency reported that international observers today praised the overall conduct of the weekend voting in Bosnia, but expressed concern at the "unusually high" percentage of invalid votes in the Serbian entity.

The Organization for Security and Cooperation in Europe said there was "a need for investigation" of reports from the Central Election Commission that the number of invalid ballots in the Serb-run part of Bosnia was around 10 percent.

with agency reports