CHISINAU -- Exit polling in Moldova following the country's repeat legislative elections suggests a victory for the long-ruling Communists but a majority for the combined opposition.
That would relegate the Communists to minority status in the next parliament and leave them unable to elect a president to succeed Vladimir Voronin.
Preliminary official results from the poll are expected early on July 30.
The exit polling, by a grouping of think tanks and pollsters called the Institute of Public Politics, gave Voronin's Communists 41.7 voter support.
It put the Liberal Democrats second at 17.4 percent, followed by the Liberal Party at 16 percent, the Democratic Party
*
at 12.5 percent, and Our Moldova at 8 percent. No other parties received enough support to get into parliament.
Election results after the last elections in April, which sparked public
protests that turned violent
, had given the Communists 49.5 percent of the vote.
Quiet Vote
Chisinau was largely calm on voting day, a working day for most people, and most people said they didn't expect street demonstrations.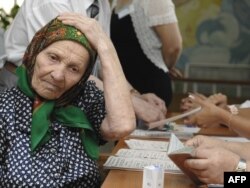 A woman awaits her ballot in Chisinau on July 29.
Those going to the polls told RFE/RL that they hoped the results would bring more stability to a country torn apart by riots over the last elections in April.
However, local election observers have reported numerous electoral list violations across Moldova, and the Interior Ministry said a shoot-out took place between two voters in a small town near the capital, Chisinau.
By 7 p.m., turnout had reached almost 50 percent. Experts said they expected up to a 60 percent turnout.
Fear Of Fraud
Monitors said it was too early to say whether apparent violations would affect the outcome of the elections.
But one international election observer from the French National Assembly, Henri Plagnol, told RFE/RL that election officials at a polling station in Orhei Vechi had acknowledged that a number of voters on a registration list there were deceased.
Concerns have been high over the number of "dead souls" on voter lists, since their presence makes election fraud easier.
Plagnol said the polling-station officials had initially dismissed his queries after he saw pencil markings next to some names on the Orhei Vechi voter list.
But after he pressed them, Plagnol said, "I was told these people were dead."
"This is really embarrassing [for election authorities]," Plagnol said.
Protests over the last polls in early April turned violent amid accusations of election rigging.
There was a report of a shooting in Sangera, about 10 kilometers outside Chisinau, involving a Communist and an opposition activist but it was unclear whether the incident was in any way connected to the voting.
A Central Electoral Comission source, Iurie Ciocan, said the commission would send a team to investigate but added that it appeared the shooting did not occur near where voters were gathering, according to RFE/RL's Moldovan Service.
* This story has been corrected to eliminate the suggestion that the Democratic Party was formed recently. It has existed since 1998.reporting by RFE/RL correspondent Greg Feifer in Chisinau; with contributions from RFE/RL correspondent Ahto Lobjakas in Transdniester and Chisinau
;
contributions from Prague by Andy Heil
Moldova Votes Again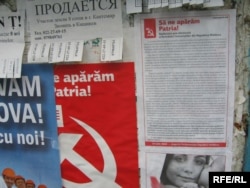 #moldovavotes
Through the eyes of RFE/RL correspondents and editors, guest bloggers, and other contributors who are following the July 29 national elections from the streets of Chisinau and far afield. Plus tweets and pics.
More