CHISINAU (Reuters) -- Pro-Western opposition parties in Moldova say they have formed a coalition and will hold talks with the incumbent Communists in a bid to gather enough votes to elect a new president.
With 53 seats out of 101 in the assembly, the parties have enough votes to form a new government but not the 61 needed to select a successor to President Vladimir Voronin, who effectively runs the country.
The failure of the Communists to vote through their own presidential candidate after winning an April election locked the former Soviet state in a political stalemate and forced the new poll in July.
A government run by the coalition -- named Alliance for European Integration -- could tip Moldova, sandwiched between Romania and Ukraine, toward the European Union and away from former master Russia.
"There are 21 principles that unite us and on which basis we have reached a mutual understanding and agreement to create a ruling coalition in Moldova," said Vlad Filat, the leader of the largest opposition Liberal Democratic Party.
The other coalition parties are the Liberal Party, the Our Moldova Alliance, and the Democratic Party, led by Communist defector Marian Lupu.
Among the agreed principles is a plan to scrap a visa regime for Romanian citizens, with whom Moldovans share historic and linguistic ties, the alliance said.
But it also stressed the importance of maintaining good ties with Moscow, which has supported Voronin and played an active role in trying to solve the years-long impasse with Transdniestria, Moldova's tiny breakaway region.
Open To Communist Talks
The defeat of the Communists in the election has all but destroyed Voronin's intention to stay at the heart of power by taking on a senior political role once he steps down. President since 2001, he cannot serve a third consecutive term.
The Communists remain the largest party in Europe's poorest nation. The coalition will need to convince at least eight Communists parliamentarians out of 48 to vote for their choice of president -- as yet unnamed.
Our Moldova leader Serafim Urecheanu told a joint news conference with the other coalition parties that they were willing to talk to the Communists but would not allow them to impose conditions for their votes. Talks would probably begin at the end of August.
The Communists lacked one vote to impose their presidential candidate after the April election, which sparked violent protests by urban youth in the capital.
Opposition members held fast against the Communists and twice boycotted the vote, forcing a new election in July.
If no compromise can be reached this time, Voronin will continue as acting president until at least next year.
The Democratic Party's Lupu has said he believes some Communist Party members can be persuaded to vote with the alliance.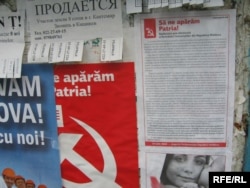 #moldovavotes
Through the eyes of RFE/RL correspondents and editors, guest bloggers, and other contributors who are following the July 29 national elections from the streets of Chisinau and far afield. Plus tweets and pics.
More