Tudor Stratan emigrated to Spain almost a decade ago.
A father of two, Stratan works as a driver and belongs to the vast diaspora of Moldovans working abroad to support relatives back home in Europe's poorest country.
According to official figures, some 500,000 Moldovans currently live abroad. Other estimates put their number at 1 million, almost a quarter of the country's total population.
Moldovan expatriates are the engine of their homeland economy -- the remittances they send home are equal to about one-third of Moldova's gross domestic product.
Such figures suggest that much could depend on diaspora participation, underscoring the gravity of accusations by Moldovans outside the country that the embattled Communist government is obstructing their vote.
The majority of Moldovans abroad won't be able to cast ballots in the decisive general election on July 29, which could lift their country out of political deadlock or plunge it into fresh chaos.
Stratan, too, will have to stay away from the vote. Moldova doesn't have a single polling station in Spain, and he can't afford the trip to the nearest polling center, across the border in Portugal.
"Lisbon lies 1,000 kilometers from where I live in Spain. Traveling there costs money and time," Stratan says. "It's a real shame. Only the elderly vote for the Communists, and the elderly don't represent Moldova's future."
Anxious Expats
The election comes amid a deep political crisis sparked by the announcement of a ruling Communist Party victory in an April 5 parliamentary vote that protesters and the opposition denounced as rigged.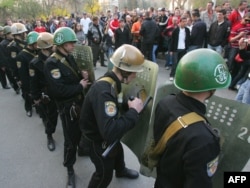 Riot police guard the government building during an April 8 rally in Chisinau
Thousands of angry voters then took to the streets, ransacking parliament and the president's office in the first political violence since the country declared independence from the Soviet Union 18 years ago.
When Communists in parliament twice failed by one vote to elect a new head of state, outgoing President Vladimir Voronin was compelled to dissolve parliament last month and call a snap election.
Now liberal-minded Moldovans are pinning their hopes to dislodge the Communist Party, in power since 2001, on the July 29 vote. And the bulk of this electorate -- mostly young, ambitious Moldovans eager to lift their country out of its political and economic stagnation -- lives abroad.
Silviu Marcuta, a 29-year-old construction foreman in London, urges fellow expatriates to make their voices heard this week.
"We place high hopes on these elections. So much depends on us -- there are so many of us abroad," Marcuta says. "I call on everyone to go and vote. Don't be afraid of anything, just go and vote. We can bring change."
Plea For Help
Marcuta lives in a capital city with a large Moldovan consulate, and he will have little trouble casting his ballot on June 29. He will give his vote to the Liberal Party, which came a distant second in the April elections.
Like Stratan, however, many Moldovan expatriates live in places with no Moldovan consular representation and therefore no polling stations.
The shortage of polling centers has acted as a strong deterrent -- only about 17,000 Moldovans abroad participated in the April election.
Many Moldovans also live abroad illegally and are therefore unable to vote.
Representatives of the Moldovan diaspora have sent an open letter pleading with Voronin and his government to open additional voting stations abroad and enable expatriates to vote by Internet or to mail in their ballots. The Council of Europe and the European Parliament have backed those calls.
But Chisinau has turned a deaf ear.
Not So Simple
Moldovan authorities argue that opening polling stations outside consulates would entail huge expenses, as well as amendments to the country's electoral legislation.
Moldovan political analyst Igor Botan, however, says the government's refusal to expand voting options is purely political.
"Moldovans abroad and Moldovans voting in their country have wildly diverging views of Moldova's political life," Botan says. "If Moldovans abroad all voted the way those who came to the polling stations voted [in April], about 60 percent of them would give their vote to the Liberal Party while the ruling party would garner just a small minority."
An additional obstacle is the timing of the vote.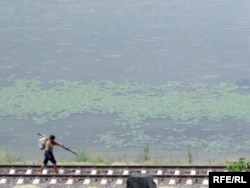 The Cahul-Giurgiulesti rail line: How far are Moldovans willing to travel to cast a ballot?
Moldovan authorities have set the vote on a Wednesday instead of a Sunday, an unprecedented move that prompted the Moldovan diaspora again to cry foul.
Moldovans abroad tend to work in marginal circumstances, which means even those living near consulates may be unable to negotiate a few hours off work on a Wednesday to cast their votes.
Tough Choices
Aliona Terguta is unwilling to risk her job in a travel agency in the Czech city of Brno. She says she will do her best to reach Prague before the polling station there shuts down in the evening.
"I'm still not sure whether I can take a day off work to travel to Prague on election day," Terguta says. "The bus takes 2 1/2 hours to cover the 300 kilometers to Prague."
Marcuta, the foreman, is determined to take July 29 off work, although it will paralyze his team for the day and could cost him his job.
Like the majority of Moldovans abroad, he dreams of living in a stable, prosperous Moldova close to his family.
But as long as Communists are in power, he complains, Moldova will remain impoverished and young Moldovans will be forced to leave their loved ones behind.
"We call on all Moldovans at home, especially the elderly, to think about the fact that their children are abroad," Marcuta says. "We want to be home. We want to be close to our friends and our parents. But if there's no change, I fear that even more young Moldovans will emigrate. This is a tragedy for our nation."
RFE/RL's Moldovan Service contributed to this report
Moldova Votes Again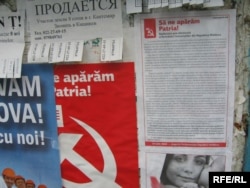 #moldovavotes
Through the eyes of RFE/RL correspondents and editors, guest bloggers, and other contributors who are following the July 29 national elections from the streets of Chisinau and far afield. Plus tweets and pics.
More