CHISINAU (Reuters) -- Moldova's outgoing president told voters on July 24 to back his ruling Communist Party in next week's snap parliamentary election or run the risk of having the ex-Soviet state wiped off the map.
Moldovans will vote on July 29 for the second time in less than four months. The Communists won the last contest in April, sparking violent demonstrations, but their victory margin was not big enough to get their candidate elected by parliament as the next president.
Russia and the European Union, competing for influence in countries of the former Soviet Union, will watch the outcome closely.
Most of Moldova was once part of Romania. Outgoing Communist President Vladimir Voronin, who must step down after two terms, has portrayed liberal opposition parties backing closer ties with Romania as being bent on having their country swallowed up by its western neighbor.
"For the first time, you will be choosing not between programs and promises, not who governs and who is in opposition, but between development and chaos, stability and violence, civic dignity and political treachery," Voronin said in an appeal published in daily newspapers on July 24.
"Maintaining our statehood, restoring trust and constructive cooperation in civil society is impossible without a decisive victory by the Communist Party."
Opposition parties, he said, had "failed to learn the lessons of their defeat [in April] and were continuing to bank on hostility, confrontation, provocation, and the defeat of democracy and our independence."
The opposition planned an election rally for the evening of July 24.
Combined Opposition Leads Polls
The few opinion polls published show the Communists in the lead with more than 30 percent support.
But combined support appears to be slightly higher for the three or four opposition parties likely to clear the five percent barrier to win seats in the 101-member assembly.
The Communist vote in April stood at just below 50 percent, giving them 60 seats -- one short of the tally needed to guarantee the election by the assembly of a president.
Young protesters angry at the prospect of further Communist administration ransacked parliament and the president's office.
Opposition parties alleged mass vote-rigging, but distanced themselves from the unrest, while Voronin accused them of plotting a coup and said Romania had fomented the violence.
Voronin relies on rural voters who see the Communists as reliable providers of pensions and basic services. Educated, better-off urban residents tend to back the opposition.
Moldova has close ties of language, history, and culture with Romania, an EU member, but it also has longstanding links with Russia. Voronin has varied in his alliances, initially aligning himself with Moscow but later accusing the Kremlin of abetting Russian-speaking separatists who have run the breakaway Moldovan enclave of Transdniestria since 1990.
He embraced Romania for a time, but now accuses Bucharest of trying to swallow up his country by offering passports to most of its residents. About 800,000 of Moldova's 4.5 million nationals have applied for or secured Romanian citizenship.
Polls show three opposition parties are almost certain to win seats, with a fourth now having uncertain chances.
Much attention will focus on the Democratic Party led by Marian Lupu, a Communist defector disenchanted with Voronin.
Analysts say he could still form a post-election alliance with the Communists on condition that the outgoing president withdraws from politics.
Moldova Votes Again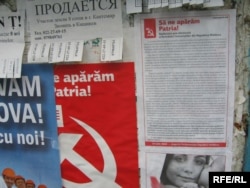 #moldovavotes
Through the eyes of RFE/RL correspondents and editors, guest bloggers, and other contributors who are following the July 29 national elections from the streets of Chisinau and far afield. Plus tweets and pics.
More