A prominent Montenegrin journalist was seriously injured after he and a photographer were attacked by the capital's mayor and three others, RFE/RL's Balkan Service reports.
Mihailo Jovovic, editor in chief of the independent daily "Vijesti," and photographer Boris Pejovic were taking photographs of illegally parked cars in front of a bar owned by Miljan Mugosa, the son of Podgorica Mayor Miomir Mugosa.
Pejovic was then attacked by Mugosa, his son, an official in the Montenegrin Embassy in Washington, and his official driver.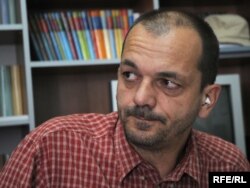 Mihailo Jovovic
Jovovic approached them and they turned on him. He was later treated for a serious ear injury.
Police are investigating the incident and have not yet pressed charges against Miomir Mugosa, a leading figure in the ruling Democratic Party of Socialists of Prime Minister Milo Djukanovic.
Journalists and opposition parties have called for an emergency session of the Montenegrin parliament and the sacking of the mayor.