BAGHDAD -- Vian Jabburi, a 22-year-old Roman Catholic, was celebrating Mass in Baghdad with her father on October 31 when Al-Qaeda militants stormed the church.
Shot through her shoulder during the ensuing siege, Jabburi survived. Her father was also shot and slowly bled to death, while she lay helpless at his side in a pool of her own blood.
"Nothing resembles this experience. Nothing," Jabburi tells RFE/RL as she breaks down in tears at her father's funeral. "The situation was very, very difficult. I still don't know whether it was reality or just a nightmare. I do not know. I really don't know.
"We were bleeding for four or five hours without receiving any help," she adds. "I will leave it to God. He is the only one who can take our revenge."
Jabburi is among thousands of Iraqi Christians who suffered through years of sectarian violence in Iraq but is now considering whether to stay any longer.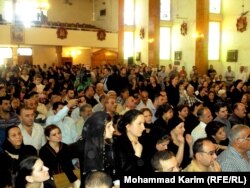 A funeral Mass for the victims of the attack was held at Baghdad's Mar Yusuf Church.
Raad Ammanuel, head of the Office of Christian Endowment in Baghdad, says the attack has caused many Iraqi Christians to rethink whether they have a long-term future in Iraq.
"Those who have an injured member of their family or lost a loved one, they are talking about leaving the country," Ammanuel says. "We do not want this to happen and we do not encourage it. But still, we can not stop people from thinking this way. I have been discussing this with them. But what can I say and how can I reply when they ask me if I am going to bring back the ones they have lost?"

'This Is Our Country'
But other Iraqi Christians are adamant in their determination to stay. Among them is the family of Hanan Fadhil, a math teacher in the Karrada district whose cousin was killed in the October 31 assault.
"They want to destroy the country and create divisions and conflicts," Fadhil says. "We've been living here all our lives and we are not going to leave Iraq. We will stay. This is our country. I was born in 1956 and I'm now 54 years old. I've been here since then. How can I leave this country?"
Baghdad's heavily fortified Karrada district has been an island of tolerance in Baghdad, where Shi'ite and Sunni Muslims have continued to live alongside Christians in relative harmony.
Luis al-Shabi, a Chaldean priest at the Mars Polis Church there, says most residents blame criminals and extremist fanatics for violence that has targeted Iraqis of all faiths.
"When a country is not stable, such things can happen. It happened many times in mosques and it happened also in [Christian] churches many times," Shabi says. "One of them is this recent disaster.
"But I have to say that Muslims do not do such things," he continues. "Those who commit such acts are not believers of Islam nor Christianity and not even in God. When they have the chance, they come to kill and to massacre people regardless of whether the victims are Muslims or Christians."
Targets Of Al-Qaeda
Indeed, Iraqi Christians have faced the same pattern of beheadings, kidnappings, rapes, and extortion that plagued Iraq's Shi'ite and Sunni communities during the years of chaos after the 2003 U.S.-led invasion and before the surge operations of 2007 brought relative stability.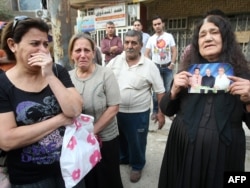 An Iraqi Christian woman (right) holds a picture of her son who was killed in the attack.
That violence caused many Muslims to leave their homes, along with the hundreds of thousands from Iraq's Christian minority who have fled the country.
During the rule of Saddam Hussein, there were an estimated 1.4 million Christians living in Iraq -- many of them Chaldean-Assyrians and Armenians, but also a smaller number of Roman Catholics.
Exact figures are impossible to confirm, but some estimates say two-thirds of Iraq's Christians have left the country since 2003 -- leaving fewer than 450,000 Iraqi Christians there today.
Al-Qaeda militants want the exodus to continue. On November 3 they threatened to carry out more attacks against Iraqi Christians.
The Islamic State of Iraq, which claimed responsibility for the Baghdad cathedral assault, linked its warning to allegations that Egypt's Coptic Church is holding women captive if they convert to Islam.
The group -- an umbrella organization that includes Al-Qaeda in Iraq and other allied Sunni insurgent factions -- is also demanding the release of Al-Qaeda prisoners held in Iraq.
Inflaming Sectarian Strife
Abu Gaith, a 28-year-old Sunni Muslim from the Karrada neighborhood, thinks Al-Qaeda has a deeper motive for targeting Christian churches.
"Everything is clear. The goal is to create problems and aggravate the already tense situation," he says. "The attackers are trying to create new opportunities and light a fire near a barrel of oil. They want the situation to go back to how it was two or three years ago, when there were sectarian conflicts between Sunnis, Shi'a or battles between Muslims and Christians".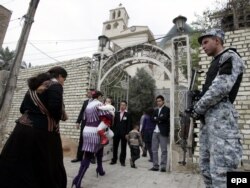 Are Iraqi security forces able to protect Christians, or any other Iraqis, from violence?
Western security analysts have come to the same conclusion, saying a weakened Al-Qaeda in Iraq is now trying to rebuild its reputation through high-profile terrorist attacks.
Jane's Security and Military Intelligence Consulting -- part of the British-based Jane's Information Group -- says Al-Qaeda in Iraq is trying to reignite large-scale and prolonged sectarian violence through focused attacks, particularly in Baghdad. It also warns that a wave of attacks across the country in late August suggests the withdrawal of U.S. combat troops from Iraqi cities has given the terrorist organization the space it needs to rebuild.
The analysis from Jane's concludes that the inability of Iraqi politicians to agree upon a new governing coalition has been detrimental to the abilities of Iraqi forces to maintain security.
Residents of the Karrada district agree. "The only reason for what happened, not only [at the cathedral] but for what is happening every day, is the incompetence of [Iraqi] security forces, especially those deployed in the Karrada district," says Ahmad Jassim, a 40-year-old Shi'ite Muslim who owns a minimarket close to the cathedral in Karrada.
"We know there is a checkpoint or a police car in front of every church," he continues. "Now, how did the gunmen enter the church? Were there clashes before? We did not hear about clashes, which means [the gunmen] entered very easily. Again, how did this happen, especially in Karrada, which is almost like a military camp now?"
That sentiment reflects the concerns of many Baghdad residents -- whether Shi'ite, Sunni, or Christian -- who say they have little confidence in the protection provided by Iraqi security forces as the withdrawal of U.S. forces from Iraq continues.
RFE/RL's Radio Free Iraq correspondents contributed to this report from Baghdad