Moscow's city legislature has overwhelmingly confirmed a new mayor, who's expected to deliver control of the city to the Kremlin following the sacking of the longtime mayor last month.
In remarks to the Moscow City Duma ahead of the vote, Sergei Sobyanin vowed to tackle corruption, excessive bureaucracy, and ineffective management.
Sobyanin was previously deputy prime minister and chief of staff to Prime Minister Vladimir Putin. After presenting Sobyanin as his nominee in front of the television cameras last week, President Dmitry Medvedev outlined his priorities, including tackling the city's legendary traffic jams and fighting corruption.
But many believe another of the president's directives reflected the Kremlin's real reason for sacking his predecessor Yury Luzhkov, the last of a group of powerful regional leaders from the 1990s who retained firm control over a city that became his personal fiefdom -- authoritarian control.
"The Moscow authorities should be fully integrated with the federal authorities," Medvedev said, "in order for them to retain trust and be effective."
Unquestionable Loyalty
Medvedev fired Luzhkov last month after a bitter public battle in which the Kremlin accused him of, among other things, channeling lucrative contracts to the construction company of his billionaire wife.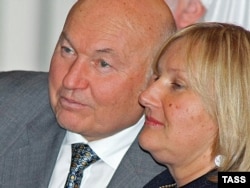 Yury Luzhkov and his wife Yelena Baturina apparently got too big for the Kremlin's comfort.
Luzhkov often clashed with the Kremlin during his 18 years in office. Sobyanin, by contrast, is seen as very close to Putin, whom many believe to have remained the country's supreme leader since stepping down as president in 2008.
Sobyanin, a former communist youth leader who started as a welder in his native Siberian region of Khanty-Mansiisk, later became a lawyer and governor of the neighboring, oil-rich Tyumen region. In 2005, he replaced Medvedev as then-President Putin's chief of staff, a post he retained after Putin became prime minister. He also headed Medvedev's presidential campaign in 2008.
The silver-haired, 52-year-old Sobyanin -- whose stern demeanor underscores his reputation as a heavy-handed governor -- met with Moscow legislators on October 18. Their vote was considered a formality because deputies from Putin's United Russia party hold 32 of the city duma's 35 seats.
They're unlikely to question Sobyanin's loyalties. Political analyst Kirill Rogov says Putin relied on him to help manage his administration during the sensitive time he transferred power from the presidency before he took office as prime minister. "Sobyanin will carefully carry out Putin's orders to the last letter," Rogov says.
Clan Battles
Many believe Putin preserves his personal power partly by balancing the influence of rival political clans locked in a hidden power struggle. In that scheme, Rogov says, Sobyanin is aligned with a group of business oligarchs and lesser tycoons who have prospered under Putin's political protection.
They sometimes oppose the hard-line group of "siloviki," or strongmen largely from the military and security services, whom Putin has appointed to many top positions.
Rogov says Sobyanin's overriding task will be to deliver Moscow's vote to the Kremlin's chosen candidate in the presidential election in 2012. Medvedev and Putin have said they'll agree on which of them will run, but most observers believe Putin plans to return to the presidency.
Rogov says a large part of Sobyanin's work will be redistributing business away from what remains of Luzhkov's vast financial machine, in a city of more than 10 million that grew rich during the country's oil boom of the last decade.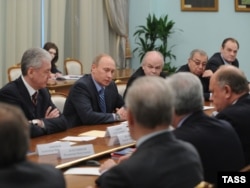 Sobyanin (left) is said to know the rules of the current system very well.
"Most important are the city's financial flows, which are mainly generated from control over real estate," he says. "It's impossible to run the city if you don't control them."
Stanislav Belkovsky, a onetime Kremlin insider who heads the National Security Institute, says Sobyanin will direct city contracts toward oligarch Roman Abramovich -- who he says headed an informal coalition maneuvering for Luzhkov's ouster -- as well as other Kremlin favorites such as telecoms and banking tycoon Yevgeny Yevtushenkov.
"The most important thing about Sobyanin is that he's a product of the system who plays exactly by the rules of the game," Belkovsky says. "He knows what's allowed and what isn't."
'Our' Guy
Belkovsky says one of Sobyanin's jobs will be to implement a Kremlin plan to turn the capital into a global financial center, now being developed under former Putin chief of staff Aleksandr Voloshin.
But he says the public shouldn't expect Sobyanin to significantly affect the city's traffic and other problems, or otherwise reform the administration of a city that largely runs itself. In any case, ordinary Muscovites have no say in the selection of their leader since Putin abolished regional elections in favor of Kremlin appointments in 2005.
Andrei Pavlov reflects the opinion of many on Moscow's streets who say they know little if anything about Sobyanin. "We don't know anything about him," he says, "other than that he fits the main criteria of the government's personnel policy: it doesn't matter what kind of professional you are, only whether or not you're 'our' guy."
The Kremlin is already at work chipping away at Luzhkov's monumental legacy. Discussions are under way on removing one of his most controversial stamps on the city: a
giant statue of Peter the Great
that looms over the banks of the Moscow River not far from the Kremlin.
The statue, commissioned by Luzhkov's government, is the work of the controversial sculptor Zurab Tsereteli, a close friend of the former mayor.
But analysts agree there's nothing to rumors Moscow's new authorities may finally grant permission for opposition groups to stage protests. The orders to crack down on demonstrators always came from the Kremlin, they say, and any let-up would be temporary, meant only to channel even more public dissatisfaction toward Luzhkov.

RFE/RL's Russian Service contributed to this report