In the 1990s, U.S. energy companies intent on shoring up oil and natural-gas supplies adopted the slogan "Happiness Is Multiple Pipelines."
But no echoes of that sentiment are likely to be heard as the leaders of the European Union and Russia gather for a two-day summit on May 21-22 in the Far Eastern city of Khabarovsk. Pipelines will definitely be on the agenda, but according to Anita Orban, the Budapest-based author of "Power, Energy, and the New Russian Imperialism," happiness probably will not.
"What we are seeing is a competition in terms of rhetoric, competition in terms of signing declarations and agreements, and a competition of perceptions -- which project will be built," Orban says. "Because still, the belief is that these projects are mutually exclusive."
There are some points of mutual understanding. The EU and Russia, for example, agree that Europe needs more pipelines to import natural gas and oil. They also agree that the Caspian region is well-suited to provide some of that gas and oil. But where they disagree is on how the energy should be delivered, and by whom.
The EU, for its part, favors the Southern Corridor-New Silk Road energy-diversification strategy it unveiled at a May 8 energy summit in Prague.
The plan foresees improving road, rail, and maritime trade to Europe from the Middle East and Caspian countries via Turkey and the Black Sea. The EU plan also calls for moving ahead on three pipeline projects: Nabucco, White Stream, and the Interconnector Turkey-Greece-Italy.
It does not, however, mention Russia's alternative South Stream pipeline -- which is designed to deliver gas across the Black Sea to Europe, and is seen as a rival to the Nabucco project.
Battle For The South
Russia is the EU's single largest energy supplier, and currently provides more than a quarter of the EU's oil and gas. So Russian officials in Prague were dismayed when the Southern Corridor plan made not a single mention of Russia and its role in the EU's southern energy strategy.
Russian Foreign Ministry spokesman Andrei Nesterenko called the Southern Corridor initiative "counterproductive," and said the EU policy was politically, not economically, motivated.
"From our point of view, the project of creating the so-called Southern Corridor without taking into account the interests of the most important energy supplier in Europe -- Russia -- is no more than a political undertaking," Nesterenko said.
Prime Minister Vladimir Putin last week formally wished the Nabucco project well, but also said "before putting billions of dollars in a pipeline, and burying the money in the ground, they [Nabucco supporters] need to understand where the gas will come from for this pipeline."
Federico Bordonaro, who works with the Italy-based energy security group equlibri.net, agrees it was "unrealistic" for the bloc to fully exclude Russia from the Southern Corridor plans. But he said that the Prague statement is far from being the final word on who will export energy to Europe. But "we should not forget that it was a declaration, it was not a deal," he adds.
Nabucco is meant to run 3,300 kilometers from Turkey to Austria, carrying some 31 billion cubic meters (bcm) of gas a year. That gas is expected to come from countries such as Egypt, Iraq, Azerbaijan, Turkmenistan, Kazakhstan, and possibly Uzbekistan or Iran.

Questions Of Supply
But many of those countries have yet to sign on to Nabucco -- meaning the EU and Russia are in direct competition for supplier and transit states.
Azerbaijan and Egypt have nominally committed to Nabucco. But Turkmenistan, Kazakhstan, and Uzbekistan -- who all have long-term gas contracts with Russia's Gazprom -- have not yet made such agreements.
A deal was struck on May 17 that potentially could have filled the pipeline, between Nabucco shareholders OMV of Austria and MOL of Hungary, two companies from the United Arab Emirates, and the Kurdish regional government in northern Iraq.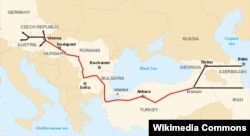 The proposed path of the Nabucco pipeline
But the agreement quickly fell apart, with Iraqi Oil Minister Hussain al-Shahristani saying he would "not allow any party to export gas from the region without the approval of the central government and the Iraqi Oil Ministry."
White Stream, meanwhile, proposes to take some 32 bcm of gas from Azerbaijan, Turkmenistan, and Kazakhstan through Georgia and across the Black Sea to Ukraine and/or Romania. But there again, the commitments are uncertain.
For the South Stream project, Russia is hoping to combine its own supplies with those from partners in Central Asia. But Gazprom officials have also been courting Azerbaijan, and last week signed deals with energy companies in consumer countries Bulgaria, Greece, Serbia, and Austria.

Call For Diversification
The frantic competition between the EU and Russia for supplies and transit routes was sparked by last year's gas-price hike and January's prolonged cutoff of supplies to Europe amid a dispute between Russia and Ukraine. This gave fresh impetus to the EU's desire to diversify its energy sources, with some member states calling for breaking the bloc's dependence on Russian supplies.
Hungary hosted an international conference for Nabucco soon after the cutoff crisis, with representatives from Kazakhstan, Turkmenistan, and Azerbaijan all in attendance. Germany's RWE, another Nabucco shareholder, signed a memorandum of understanding with the Turkmen government in April to explore a bloc on Turkmenistan's Caspian shelf.
Moscow appeared to strike back in late March, when Surgutneftegaz, Russia's fourth-largest oil company, acquired shares in Hungary's MOL. The deal raised eyebrows in Europe, since the company is a shareholder in Nabucco. And last week a second EU country, Italy, signed a deal with Russia on the South Steam pipeline.
Ahead of the EU-Russia summit, the bloc's foreign-policy chief, Javier Solana, appeared eager to soothe over any rough patches, saying a new agreement regulating energy cooperation between the EU and Russia was in the works.
Solana noted that "Russia is the main foreign supplier of energy" to the EU and would remain so "for the foreseeable future."