MOSCOW -- Flowers still decorate the gates of St. Thomas, the small wooden church in the south of Moscow where Father Daniil Sysoyev served. They represent an outpouring of grief for the priest who had built his parish from nothing and hoped to eventually build in place of the modest wooden structure a brick church big enough to hold 2,000 people.
Four red carnations adorn a photo of the priest, who was murdered November 19 after an unidentified gunman entered his church and shot Sysoyev twice. Someone has pinned up a poem dedicated to him. A sign nearby notes that surveillance cameras have been installed at the church in the wake of the tragedy.
St. Thomas held a service on November 28 to mark the ninth day after the killing. Sysoyev was only 35 years old but had already built a reputation as a priest who stood out for his proselytizing work among Russia's Muslim community -- a relatively new phenomena for the Orthodox Church.
Andrei Zolotov, a journalist specializing in religious issues, says Sysoyev was known for his missionary zeal.
"He was one of the several most prominent missionaries, and also someone who was known as a bit controversial -- one of those who insisted on the necessity of missionary work among Muslims," Zolotov says.
Sysoyev actively sought to convert Muslims, working in the capital city's Muslim communities and reaching out to the thousands of immigrant workers who have come to Moscow from Central Asia, the North Caucasus, and elsewhere. He would routinely go to the city's construction sites, where many immigrants are employed, and successfully converted as many as 80 people.
But his work didn't stop there. He also wrote books warning Christians not to marry Muslims and posted online videos that attacked Islam. Copies of his book, "An Orthodox Response to Islam," have sold out at St. Thomas in the days since his death.
Sysoyev also posted videos of himself on YouTube, in which he would often be heavily critical of the Muslim faith. In one of them, he ends his lecture with an expression of hope that all Muslims would eventually convert to Christianity.
"That's it. May God help all of us," he says in the video. "We will pray so that Muslims will come to Christianity and not follow the conspiracy of the Prophet."

'I'm Already Used To It Now'
Sysoyev's outspokenness did not go unnoticed, and he wrote that he was continually threatened by Muslims angered by his work.
"You're going to laugh, but the Muslims have again threatened to kill me. The threat was by telephone this time," Sysoyev wrote on his blog in October. "It's already the 14th time. Before it scared me, but I'm already used to it now."
Sysoyev's wife and two of his daughters pay their last respects to the slain priest.
After his murder, his wife, Yulia, wrote in a letter of his premonition of death.
"He told us which vestments to bury him in. Then I joked that there was no need to speak about that, we still did not know who would bury whom," Yulia says. "He said that I would bury him."
The Orthodox Church has come around to the importance of missionary work in Russia in recent years. Zolotov says it is a trend that has been especially evident under the new patriarch, Kirill, who has led the church for less than a year.
"In the last several years, missionary work has been increasingly recognized as a top priority, or one of the top priorities," Zolotov says. "Basically, the election of Patriarch Kirill to a large extent was the manifestation of this recognition that we need to carry out a mission. It is not enough to just be reconstructing the church or sit there saying how important we are for Russian history."
Part of that mission is to reach out to nominal Russian Orthodox Christians who do not attend church. Different figures show that only between 3 to 10 percent of Russians attend Orthodox Church services, when as many as 80 percent identify themselves as Orthodox.
But many in the church believe that missionary work extends beyond activating dormant Orthodox Christians to attempting to convert members of the Muslim community as well.
Zolotov says while official church policy does not publicly endorse proselytizing of Muslims, it does not discourage priests from missionary work. Patriarch Kirill presided over Sysoyev's funeral, a gesture that many saw as emphasizing the Orthodox Church's tacit support for conversion work.
Struck A Nerve
Sysoyev was one of only a few Orthodox priests active in full-time proselytizing work. One of his parishioners, Larisa Vasilieva, was brought up in Kazan, the capital of the Muslim-majority republic of Tatarstan, where her mother was a Muslim and her father an Orthodox Christian. She says Sysoyev struck a nerve by speaking openly about what otherwise remains a hushed battle by the church for influence over what may be as many as 20 million Muslims in Russia.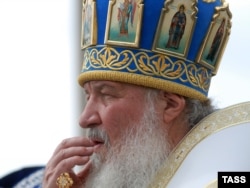 Russian Orthodox Patriarch Kirill
"Nobody speaks out about it [in Kazan]. But here [in Moscow], he spoke openly and wrote openly about his views, and that is what they did not like," Vasilieva says. "He wrote about what other people think but are too afraid to say."
With the stark exception of the federal wars in Chechnya and spreading unrest through much of the North Caucasus, experts say contemporary relations between Muslims and Orthodox Christians have rarely been confrontational.
But there are fears that may change as the Orthodox Church, with the explicit backing of the Kremlin, seeks to assert its role as the standard-bearer of Russian national identity. The Sysoyev murder, it is feared, will bring latent tensions between the two communities out into the open.
(And the November 27 bombing of a Moscow-St. Petersburg railway, in which 26 people were killed, may stoke Christian-Muslim tensions further. No one has yet claimed responsibility for the blast, but terror attacks in Russia frequently provoke speculation of a North Caucasus link.)
In the wake of Sysoyev's murder, religious leaders from Russia's Orthodox, Muslim, and Jewish communities called the killing of a priest in his church a "mortal and unforgivable sin" and warned that "the tragedy might be used by extremist forces to foment interethnic and inter-religious conflict."
Not all parishioners are convinced that an Islamic extremist was to blame for the killing, however. Some point instead to a land dispute. St. Thomas was facing problems getting permission to construct a larger building on its grounds. Some of Sysoyev's followers say that his death may have been connected to that dispute and not to his proselytizing work.