(RFE/RL) -- Thousands of mourners gathered at a suburban Moscow church today for funeral services for a Russian Orthodox priest shot dead by a masked gunman last week.
Investigators said Daniil Sysoyev had received death threats for converting Muslims and criticizing Islam. His death is drawing attention to tense relations between the Russian Orthodox Church and other faiths in a country with Europe's largest Muslim population.
The Russian Orthodox Church leader, Patriarch Kirill, who took part in today's services, praised Sysoyev for having done much to "defend the word of God."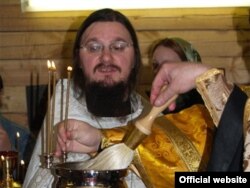 Daniil Sysoyev
"If a person is killed for spreading God's truth, that means the truth is affecting people who don't accept it, and that it contains great force," Kirill said.
Investigators said Sysoyev was shot in the head and neck after the gunman entered his small wooden church in southern Moscow on November 19 and asked his name. The priest died on the way to the hospital. The church's choirmaster was injured in the attack.
Vladimir Markin, spokesman for the Prosecutor-General's Investigative Committee, said Sysoyev was probably killed because of "religious hatred."
"During the preliminary investigation, witnesses testified he had long received threats for his religious activity," Markin said. "Criminal investigators are now examining the hard drives of the priest's computers."
In addition to Muslims, Sysoyev worked to convert Jehovah's Witnesses and members of other small groups the Orthodox Church criticizes as "totalitarian sects." In a videotaped lecture
posted on YouTube
, the bearded 35-year-old preached that Islam is not a religion "according to our traditional understanding."
Sysoyev's widow, Yulia, at his funeral
"That's very important to remember, because our conversations are often like those between two deaf people. They talk about one thing and we another, and we can't understand each other because we attach different meanings to the same words," he says in the video.
The Russian Orthodox Church has seen a massive revival in the two decades since the end of its suppression under communism. Patriarch Kirill, who took his post earlier this year and is often seen in public with Russia's leaders, has overseen a growing political role for what many believe to be Russia's official state church in all but name.
But human rights activists criticize the church for marginalizing other religions and violating the official separation between church and state. The church has railed against foreign missionaries and campaigned against reconciling with the Catholic Church.
That's helped cause tensions with Russia's Muslim population, which largely lives in the volatile southern Caucasus regions and Siberia.
Before becoming patriarch, Kirill criticized the idea of "human rights" as "a cover for lies and insults to religious and ethnic values."