NATO Declares 'Success' In Supporting Secure Afghan Election
BRUSSELS -- NATO has reiterated the initial conclusion of its secretary-general, Anders Fogh Rasmussen, that the alliance's role in securing the Afghan presidential elections on August 20 was a "success."
Speaking to reporters in Brussels, NATO spokesman James Appathurai said Rasmussen's assessment, made the day after the election, holds up in the light of evidence.
"Ninety-five percent of the polling stations that were planned to open, opened. In other words, 6,199 of the 6,500 -- [or] 6,200 of the 6,500 -- polling stations which were projected to open, did open. Only 2 percent of the total were attacked," Appathurai said.
The NATO spokesman said that "from a security point of view, we can be satisfied with what was done on election day."
He added that the Afghan police and army can claim most of the credit, with the NATO-led International Security Assistance Force (ISAF) having fulfilled a supporting function.
Appathurai said ISAF, which called a moratorium on its operations for the duration of the elections, has now again resumed operations.

Calls For Leaders To Act 'Responsibly'
Appathurai said NATO does not consider itself responsible for the conduct of the elections or the political process that follows. He did, however, offer two comments related to the substance of the poll.
First, he stressed that in the light of the "partial and preliminary results" released by the Independent Election Commission on August 25, all speculation about the outcome remains "only speculation" until mid-September, when final results will be confirmed with all complaints addressed and the total vote certified.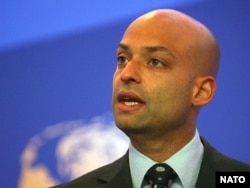 Appathurai said NATO is calling on Afghan leaders to act "responsibly."
The preliminary results, with only 10 percent of the votes counted, put incumbent Hamid Karzai in the lead with 40 percent, but put his rival Abdullah Abdullah just one percentage point behind.
Second, Appathurai said, NATO is calling on Afghan leaders to act "responsibly" in the meantime.
"The secretary-general yesterday reaffirmed the message that he conveyed personally to Afghan leaders when he was in Afghanistan in his first week [as NATO head]," Appathurai said, "and that it that it is important for all political parties and individuals in Afghanistan to maintain a responsible attitude in what they say and do during this sensitive period."
Appathurai said that should the race between Karzai and Abdullah go to a second round, NATO will remain in a position to provide security "at the same level" as on August 20.
Taliban Behind Civilian Deaths
Appathurai also read out a condemnation by Rasmussen of August 25 bombing in Kandahar. In his statement, Rasmussen rejects a reported denial of culpability issued by the Taliban, saying the movement "will not get to wash its hands of responsibility" for the attack "directly or indirectly."
Appathurai also quoted ISAF's newest statistics on civilian casualties, saying that during the election week, the Taliban was accountable for 34 deaths and 236 injuries. He said ISAF operations did not claim a single civilian life and injured just six throughout the same period.
Rasmussen, who became NATO chief on August 1, is due to travel to Greece and Turkey later this week. Appathurai said Rasmussen during his trip will discuss the operation in Afghanistan and urge the two countries to resolve a long-running dispute over Cyprus that has seen Turkey block all NATO-EU cooperation.
The consequences of Turkey's move, Appathurai said, have been "perverse" -- preventing, for example, NATO from offering protection to EU police trainers in Afghanistan at a time when the Afghan National Police are expected to assume an increasingly greater share of the responsibility for security in the country.