TALLINN -- NATO has officially set in motion the process that it hopes will eventually allow it to wind up operations in Afghanistan.
After a meeting today of alliance foreign ministers in Estonia, NATO Secretary-General Anders Fogh Rasmussen said the allies had reached agreement on basic guidelines for starting to hand over responsibility for security in the country to Afghan forces:
But he said this would be a gradual process, not a "run for the exit."
"I expect that we will start handing over responsibility to the Afghans this year," Rasmussen said. "Today, we took an important decision to help make that happen. We agreed the approach we will take to transition."
Rasmussen said NATO ministers had set out the basic "conditions" that will determine when and in which districts and provinces Afghan forces will take over from the NATO-led International Security Assistance Force (ISAF) force.
But he declined to elaborate on the terms or the timeline involved, beyond saying decisions would be made on a case-by-case basis.
NATO officials say the allies want to give Afghan President Hamid Karzai the opportunity to "tweak" the conditions during upcoming talks in Kabul with international backers.
Rasmussen did say, however, that any handover of responsibility to Afghan forces did not mean ISAF forces will vacate the area in question. Even if Afghan National Army and police assume the lead, Rasmussen said, they will need ISAF backup "for quite some time."
But, he also noted, NATO "will not stay in Afghanistan forever."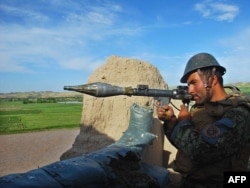 An Afghan soldier handles a rocket-propelled grenade launcher during a patrol in northwestern Badghis Province.
NATO will make a formal decision on the future of security arrangements in Afghanistan at a summit in Lisbon in November.
U.S. Commitment
At a dinner last night, the United States spelt out in broad strokes its vision of NATO's future. U.S. Secretary of State Hillary Clinton today indicated this involves renewed assurances of a continued U.S. commitment to the security of its European allies. But Washington also expects allies to contribute more toward goals it prioritizes.
This process will find formal reflection in NATO's new strategic concept, to be also adopted at the Lisbon summit. The strategic concept is being drafted by a task force headed by the former U.S. secretary of state, Madeleine Albright.
Clinton said today Washington wants NATO to reform and adapt better to 21st-century challenges. "We now have an opportunity to build on their [the task force's] work and construct a more effective, efficient and flexible NATO, better prepared and ready to meet the challenges and seize the opportunities of the 21st century," she said.
The United States made it clear during the meeting that it will retain a nuclear arsenal on the European continent, dispelling fears its missile-defense initiatives are designed as an alternative.
Reaching Out To Russia
The ministers today also discussed relations with Russia. A customary NATO-Russia Council meeting was cancelled after Russia declined to participate. Officials attributed this to Moscow's fraught relations with host Estonia and its general opposition to NATO expansion.
Rasmussen today dismissed Russia's views of NATO as out of date. "The Russian military doctrine does not reflect the real world," he said. "It states that NATO constitutes a major danger -- at the least -- which is not the reality."
Rasmussen urged Russia to engage in practical cooperation with NATO on issues of mutual interest such as Afghanistan, the fight against terrorism, counternarcotics work, counterpiracy operations, and various arms-control issues.
The NATO chief also repeated his invitation for Russia to join NATO in developing a joint missile shield.
Rasmussen today also clarified the circumstances surrounding the granting of a Membership Action Plan last night to Bosnia-Herzegovina.
He said that the plan will be implemented "only when some clearly identified defense property is formally transferred from the entity level to the [federal] Ministry of Defense." Bosnia has two entities, the Republika Srpska and the Muslim-Croat Federation.
In other words, Rasmussen said, Bosnia will not be put on the road to accession before it meets NATO's concerns regarding its defense sector.