By RFE/RL's Georgian Service
The Georgian Interior Ministry has announced that police have arrested and charged two people for "antistate" activities.
"Today we will present evidence regarding two people, Malkhaz Gvelukashvili and Lasha Chkhenkeli," Interior Ministry spokesman Shota Utiashvili said. "In the evidence, you will see the names of concrete people, the concrete plans, and the concrete groups, and also some indication of the sources of funding. We are at the very early stages of the investigation, so we cannot make any conclusions yet."
The announcement of the arrests came one day after the Interior Ministry said it had
detained 10 people
on charges of illegal arms purchases.
The ministry released video recordings that appear to show the latest suspects purchasing, or attempting to purchase, automatic weapons.
A video released by Georgia's Interior Ministry shows suspects negotiating illegal arms purchases.
All but two of the detainees had ties to one of the government's strongest opposition critics, former parliament speaker Nino Burjanadze. Burjanadze dismissed the charges as part of a "campaign of terror" against her party.
Utiashvili said the latest case is not related, but the suspects' purported aims -- and the evidence presented against them -- are strikingly similar.
Storming The Parliament?
Ministry officials once again presented audio and video evidence they say shows the suspects discussing arms purchases and plans to take control of the Tbilisi TV tower during critical opposition protests next month.
When our people enter, we'll have not just 30 people, it'll be 500, or even a thousand. All our people. They'll take the outer perimeter; they'll control it completely. Military guys -- ours. You understand? And they won't let anyone move a finger.
One audio recording purports to catch Gvelukashvili, a minor opposition figure, describing a plot to storm a building, possibly the parliament.
The recording appears to suggest that members of the Georgian military are involved in the plot, and that Georgia's president, Mikheil Saakashvili, could be a target.
"When our people enter, we'll have not just 30 people, it'll be 500, or even a thousand. All our people," Gvelukashvili allegedly says. "They'll take the outer perimeter; they'll control it completely. Military guys -- ours. You understand? And they won't let anyone move a finger."
An unidentified man says, "Very good. And what if Misha [Saakashvili] is there?"
"He won't escape alive," Gvelukashvili allegedly says. "This is not about Misha. This is a popular uprising." Laughter can be heard.
In the Interior Ministry video, a hidden camera shows Gvelukashvili discussing an apparent plot to take over a building.
The ministry later announced Gvelukashvili and Chkhenkeli have been charged with antistate activities, a serious charge that could carry a sentence of up to 15 years in prison.
Utiashvili also said the ministry is set to unveil a fresh set of charges and evidence at a press conference on March 25.
This week's arrests further stoke the political tensions mounting ahead of scheduled opposition protests on April 9, the day marking the 20th anniversary of Soviet forces crushing a pro-independence demonstration in Tbilisi on April 9, 1989.
Opposition groups are planning to use the occasion to stage antigovernment protests demanding Saakashvili's resignation.
'Mature' Opposition
The opposition outcry that rose following the March 23 arrest announcements has given way to an uneasy quiet.
Of the top opposition officials, Burjanadze was the only one to speak on March 24. On "First Topic," an evening talk show broadcast on Georgia's Channel One public broadcaster, the former parliament speaker -- and Saakashvili's key ally in the 2003 Rose Revolution -- accused the government of seeking to destabilize Georgia in order to stay in power.
She also rejected the notion that anyone in her party would seek to buy illegal weapons, although she said she did not rule out the possibility of "infiltrators."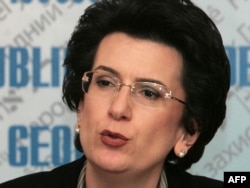 Opposition leader Nino Burjanadze accused the government of a "campaign of terror" at a press conference in Tbilisi on March 23.
Burjanadze also took the opportunity of her television appearance to portray the Georgian opposition as a united front. The country's opposition figures are seen as notoriously fractious and unable to wage a united campaign to unseat Saakashvili.
But Burjanadze noted that the leaders of all major opposition groups had gathered on March 23 in the office of the human rights ombudsman, Sozar Subari, after the first round of accusations aired. She applauded her colleagues in the opposition for their show of "political maturity."
Other opposition voices have been largely silent on the issue, however -- most notably Irakli Alasania, the former UN ambassador and popular leader of the Alliance For Georgia. He is seen as the main rival to Burjanadze in any future presidential bid from the opposition camp.
But Manana Nachkebia, a member of the New Rightists party that is a member of the Alliance for Georgia, dismissed this week's wave of arrests. Speaking to RFE/RL's Georgian Service, she said the latest videotaped allegations are no different than videos that attempted to show opposition members colluding with Russia at the time of antigovernment protests in November 2007.
"Eighty percent of the Georgian population predicted that we would see exactly this development. Everyone was expecting that the closer we got to April 9, the more concrete actions we would see from the government," Nachkebia says. "And one of these concrete actions has been this PR campaign. We have experience with this already."
'Impossible To Fake'
While few Georgians appeared to take the 2007 videos seriously, there are signs that people view the latest government claims -- and the videos, which have been broadcast repeatedly on television -- as legitimate.
"I think at least some of the material I saw would be impossible to fake," Tbilisi resident Shalva Kipiani told RFE/RL's Georgian Service. "You'd have to bring in actors, have them perform, and then let them disappear. What I saw in the footage, I'm sure, was really happening. There was an actual attempt to change the government. I'm sure a big effort was going into this."
Not everyone was convinced, however.
"Everything was falsified," said one Tbilisi woman. "This government wouldn't have any problem doing that."
Giorgi Gabashvili, one of the parliamentary majority leaders from Saakashvili's United National Movement, told deputies on March 24 that the round of arrests and charges are in no way "political."
Minority leader Giorgi Targamadze said the burden is on government officials to prove the veracity of the video and audio recordings.