The alleged accomplices in Anna Politkovskaya's slaying have gone on trial for a second time in Moscow.
Almost three years have passed since Politkovskaya, a fierce Kremlin critic who exposed rights abuses and corruption, was gunned down in the entrance of her Moscow apartment building in October 2006.
The defendants -- Chechen brothers Dzhabrail and Ibragim Makhmudov, and former police investigator Sergei Khadzhikurbanov -- are accused of acting as accessories to the crime.
They were acquitted in February after what critics say was a botched investigation and trial.
The man accused of pulling the trigger, a third Makhmudov brother named Rustam, is still at large.
A higher court in late June ordered a new judge and jury to hear the same evidence again.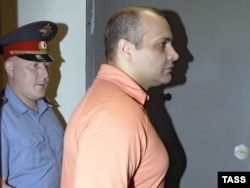 Former Moscow police officer Sergei Khadzhikurbanov is also accused.
But Politkovskaya's family and supporters are not expecting much from the retrial. Instead, they are calling for a new probe to find those who ordered the killing.
"Today we will file a petition for the case to be sent to the prosecutor's office, because we think the way the verdict was reached and the way the last trial took place shows how ineffective this court examination has been," Anna Stavitskaya, a lawyer for the Politkovskaya family, told reporters ahead of the hearing.
"Huge mistakes were committed during the investigation, and there were also many shortcomings with regard to the verdict."
Politkovskaya's supporters, including her son Ilya, have voiced doubt the request will be granted.
No Political Will
The Kremlin has vowed to solve the crime. President Dmitry Medvedev has visited the offices of Politkovskaya's newspaper, "Novaya gazeta," and vowed to reform the legal system.
But rights groups say Russian authorities so far have shown no will to solve killings of opposition figures.
"There is a threshold beyond which investigators are not allowed, beyond which good, honest investigators are banned from probing their case," says veteran rights campaigner Lyudmila Alekseyeva.
Anna Politkovskaya's son Ilya (right) and daughter Vera are doubtful of justice.
"If they insist, the case is taken from their hands and given to other investigators who either close it or take it in the wrong direction."
According to the Committee to Protect Journalists, at least 18 reporters have been killed in Russia since 2000, making Russia the third-deadliest country in the world for journalists.
In only one case have the killers been convicted.
The latest victim was prominent rights activist and journalist Natalya Estemirova, who was shot dead last month after being abducted outside her home in Chechnya.
She had worked closely with Politkovskaya to investigate abuses by Russian and pro-Russian forces in war-battered Chechnya.