Allegations of prison authorities' use of rape as a means of punishment or intimidation in the Islamic republic are nothing new.
But for the first time, a high-profile figure in the Islamic establishment has acknowledged the apparent rise in the practice, and is calling for an investigation.
Former parliament speaker Mehdi Karrubi was a losing reformist candidate for president in Iran's contentious June 12 election, but in the aftermath has strengthened his position as a leading opposition figure by taking a number of stances that make the regime uncomfortable.
None has been more controversial than his revelation in a letter published earlier this month to former President and Assembly of Experts head Akbar Hashemi Rafsanjani that a number of protesters, women and young boys alike, detained in the postelection unrest had been subjected to brutal rapes.
Calling for an investigation, Karrubi urged Rafsanjani to bring the issue up with Supreme Leader Ayatollah Ali Khamenei.
Graphic Testimony
Hard-liners were quick to attack Karrubi, calling for his prosecution for "libeling the system" unless he could prove the allegations. In response, Karrubi has upped the ante, publishing on his website a graphic account of the rape of a young male detainee.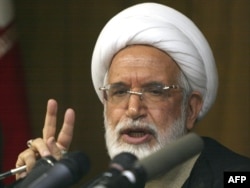 Mehdi Karrubi has called for an official investigation.
The individual says in the account, published this week, that he was nearly beaten to death and raped. "Worse than all of that, they did something to me that even unbelievers and idol worshipers would denounce."
Karrubi has also handed the names of four individuals who say they were raped in prison to a special parliamentary commission that is in charge of investigating the postelection unrest.
A member of the parliamentary commission, who did not want to be named, was quoted on August 26 by the "Parlemannews" website as saying that it's clear that some detainees were raped with batons and bottles.
And Karrubi's son told RFE/RL's Radio Farda on August 25 that his father will present other rape cases to parliament in the future.

Long History Of Abuse
Abdol Karim Lahidji, the deputy director of the Paris-based International Federation for Human Rights, describes Karrubi's move as very significant.
He says his organization has been condemning rape in Iran's prisons in its annual reports to United Nations human rights bodies, "but now a well-known figure in the Islamic republic who has twice been parliament speaker and a presidential candidate, has not only spoken about it but he has identified several victims and called on the parliament to give them protection."
Lahidji says that if the victims are given protection, then the investigation might lead to some results.
Lahidji, who has been monitoring human rights in Iran for three decades, says that over the years he's received a number reports about political prisoners being raped by their interrogators.
"Unfortunately, in the 1980s we used to receive a lot of news about girls being raped in prison before being executed," he says.
Lahidji says that he also personally dealt with rape cases following the student uprising of 1999; "one of the students whom I interviewed in Europe said many of the boys had been raped in prison."
Unseen Wounds
Monireh Baradaran is a former political prisoner who has published a prison memoir about her nine years in prison from 1981 to 1991. She tells RFE/RL she met a girl in prison who had become mentally ill after being raped by her interrogator.
"She was then a beautiful, 16-year-old girl. She wouldn't talk, she was silent all the time , but I had heard from people close to her including her sister, who was also in jail, that she had been raped," Baradaran says.
"She was in total silence; she would distance herself from others."
Baradaran says rape is used as a torture method intended to crush detainees' spirit.
Azar Ale Kanaan, a former political prisoner, says the memories of her rape some 20 years ago in a prison in Sanandaj are still unbearable. Her interrogator, who had promised to break her down, raped her while her hands were tied and she was blindfolded.
Video interview with Azar Ale Kanaan by well-known Iranian filmmaker Reza Allamezadeh (English subtitles):
"I knew he was my enemy and my enemy has done this to me, the enemy has touched me, raped me. Even when he was lashing me, it was a rape in a sense," Ale Kanaan says.
"But I could deal with the lashes and cable much easier than this because the physical pain of lashes goes away after a while , but the pain of rape, the pain of those dirty hands touching me.... For me, remembering it is like...like a mother in front of whom her only dearest child is killed."
Breaking The Silence
Former political prisoner Nasrin Parvaz says many of those who endured rape in Iranian prisons, women and men alike, choose to remain silent.
She says she personally knows three men now living in Britain who were raped in Iranian prisons. She adds that for some reason they won't speak about it, "and I don't judge them. It has to do with the society's culture."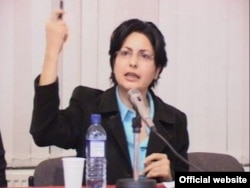 Nasriz Parvaz says many of the victims remain silent.
Parvaz says one of the three men was raped 12 years ago while the case of the other two is two years old. She adds that they have not only been damaged psychologically, but one of them is still being treated for "physical damage."
Iran's Writers Association has said in a statement that torturers who use rape play on their victims' sense of shame. The group has praised rape victims who have had the courage to come forward about their experience, and has characterized the disclosure of rape as commitment to freedom of expression.
Former political prisoner and artist Soudabeh Ardavan says that during the '80s "social and political conditions" were not appropriate for rape victims to talk about their experience.
"We have many of these cases that are still hidden," she says. "Some of my friends are reaching, after 30 years, a stage where they slowly start to talk about what happened to them [ in detention]."
But Ardavan sees the recent revelations as a positive sign, in the sense that the problem is out in the open.
Observers say the Islamic republic's legitimacy has already been severely damaged as the result of the postelection crisis. The supreme leader has been publicly challenged and a rift in the country's leadership has widened. There have been reports of peaceful protesters being shot dead, and prisoners brutally tortured.
And with the recent allegations of rape, the Islamic establishment -- whose officials claim to rule the country based on moral and religious values -- faces another severe test.
As Karrubi wrote in his letter to Rafsanjani on August 9, if any of the allegations of rape proved to be true it would be a tragedy for the establishment.
Radio Farda broadcaster Elahe Ravanshad contributed to this report