Ever since the beginning of the five-day war between Russia and Georgia last August, Moscow and Tbilisi have traded accusations about who unleashed the violence.
This week, Russian television viewers get a chance to witness another chapter in the dispute. Channel One state television will air "
Olympius Inferno
," a new action thriller that offers a fictionalized account of how the war started, and places the blame squarely on the shoulders of Georgian President Mikheil Saakashvili.
Set in South Ossetia, "Olympius Inferno" tells the fictional story of a Russian-born American biologist and a Russian journalist who capture the opening moments of the August conflict while filming the nocturnal habits of local butterflies. They must then make their way through the Georgian-held conflict zone to the Russian lines in order to bring to the world the truth: that Georgian troops launched an aggressive attack against the sleeping region.
Betrayal and Flames
The flashy, feature-film-style production will air on Russia's main state television channel during prime time on March 29. It stars Israeli actor Henry David and St. Petersburg native Polina Filonenko, and was directed by Igor Voloshin. It was filmed on location in the disputed region of Abkhazia.
Voloshin tells RFE/RL's Russian Service that he was approached by a Channel One producer in December to make the film. Now, less than four months later, the feature is ready for its premiere. Voloshin concedes the film is "political," but emphasizes that it is fundamentally the story of two people trapped in hellish circumstances.
"It is a film about people, not about Georgians. It is a film about the fate of two young people who found themselves caught up in the Apocalypse," Voloshin says. "Unfortunately, artistic cinema here is often viewed not as a work of art, not as a story, but as some sort of speech that needs to be dissected without ever paying attention to the fact that it is, after all, a work of art."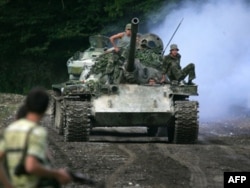 Abkhaz soldiers atop a tank in Abkhazia's remote Kodori Gorge in mid-August
Georgians, however, are likely to see the film differently. Having overwhelmed Georgia militarily during the five-day conflict, Russia now seems to be using its economic and propagandistic might to lock in its version of events in South Ossetia.
As early as October, a documentary film called "
The Art Of Betrayal
" was released on the Internet for free download. That film also told the Russian version of the August events, placing the blame for the bloodshed exclusively on the shoulders of President Saakashvili.
Georgia also produced its own Internet-movie version of the conflict, with narration in English, called "
Georgia In Flames
."
But neither of these efforts had the sex appeal or the prime-time visibility being given to "Olympius Inferno."
More Than A Love Interest
Giorgi Gvakharia, cultural correspondent for RFE/RL's Georgian Service, sees the new film as part of a larger pattern of Moscow's use of state-funded film making to pursue its political goals.
"There is nothing surprising in the fact that they shot such a film. We can see this tendency in Russian cinema over the last couple of years," Gvakharia says. "As soon as they got money, they started to shoot military-action films. Last year, they released an explicitly anti-American film by director Yury Grymov called 'Strangers.'"
"Strangers" was released in November to mixed reviews. It tells the story of a group of American doctors sent to an unnamed Islamic country to test drugs for a pharmaceutical company on native children. The film portrays Americans as arrogant, greedy, and fundamentally hostile to Islamic culture, while Russians are portrayed as caring, sympathetic, and respectful.
The film was marketed under the slogan "The most important film of the year," and its launch was accompanied by unfounded Internet buzz suggesting that the U.S. administration had banned the film in the United States.
Director Grymov is an adroit political opportunist with a background in advertising. He once did political advertising for Boris Yeltsin and was in charge of youth-oriented media projects for the Yukos oil conglomerate before the Kremlin put company CEO Mikhail Khodorkovsky in prison.
Grymov is now a member of the central council of the pro-Kremlin political party, A Just Russia, which is headed by Federation Council Chairman Sergei Mironov.
Gvakharia links films like "Strangers" and "Olympius Inferno" to a broader effort by the Russian government to steer the country's popular political culture in an anti-Western direction.
"In the case of the war in South Ossetia and the events of last August -- I think these things are just a pretext to shoot a movie that doesn't necessarily have to be an anti-Georgian movie," Gvakharia says. "And if you have a look at the interviews with the director, Igor Voloshin, he stresses that he has nothing against the Georgian people -- but to shoot another anti-Western movie."
In April 2008, Channel One aired a documentary called "The Caucasus Plan" that alleged that Western powers -- led by the United States -- were responsible for the post-Soviet unrest in the North Caucasus.
In October, Russia's other state-controlled national network, Rossia, aired a documentary called "Barkhat.ru" (Velvet.ru) that accused the CIA of using Western NGOs and Russian opposition political figures to foment a "colored revolution" in Russia.
RFE/RL's Georgian and Russian services contributed to this report