Ukraine's parliament appointed a new prime minister after President Viktor Yanukovych formed a new governing coalition in the legislature today.
Yanukovych has moved quickly to form a government following the ouster of the country's Orange Revolution leaders in a presidential election last month.
The new coalition is centered around Yanukovych's pro-Moscow Party of Regions, which picked former Finance Minister Mykola Azarov for the post of prime minister. Parliament confirmed the appointment soon after.
A controversial figure among liberal circles, the Russian-born Azarov is a top ally of Yanukovych's. The technocrat replaces former Prime Minister Yulia Tymoshenko, the fiery Orange Revolution heroine who narrowly lost the bitter election to Yanukovych last month.
A stern figure, Azarov spent six years as head of the state tax administration under Yanukovych's old patron, former President Leonid Kuchma. Critics at the time devised the term "azarovshina" from his name to refer to what they called his Soviet-style heavy handedness and corruption.
Speaking in parliament today, Azarov promised structural reforms, lashing out at Tymoshenko's outgoing government, which he said had left Ukraine's coffers empty, adding that the situation in the country "critical."
"Our task is to provide the people with just and effective rule," he said. "We're speaking honestly about the situation in Ukraine and what we want to do about it."
Tymoshenko later dismissed Azarov's criticism. Speaking to reporters, she said, "the first thing [the new cabinet] will do is to divide the money flow among themselves."
Cabinet Takes Shape
The parliament approved nominations for other top cabinet posts, including businessman Borys Kolesnykov as deputy prime minister. Another close Yanukovych ally seen as a main strategist for the Party of Regions, Kolesnykov was among those temporarily arrested in the aftermath of the Orange Revolution. He denies all allegations of wrongdoing connected to the racketeering charges brought against him.
Most of the other posts also went to Yanukovych allies, except for the surprise choice of Kostyantyn Hryshchenko for foreign minister. Previously Ukraine's ambassador to Russia, he's seen as a pro-Western figure.
The new government is taking shape after Tymoshenko's governing coalition fell apart last week, when some of its members defected. Among them was parliament speaker Volodymyr Lytvyn, who announced the formation of the new group in parliament today, calling it a coalition of "stability and reform."
"The coalition has been formed on the basis of an agreement signed by heads of the factions of the Party of Regions, the Communist Party, the Lytvyn Bloc, and the People's Party," Lytvyn said.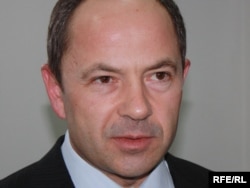 Serhiy Tihipko was named deputy prime minister in charge of economic policy.
Some had expected Yanukovych to pick one of two centrist politicians for prime minister, including former central banker Serhiy Tihipko. Yanukovych's onetime campaign manager, Tihipko placed a strong third in the first round of the presidential election in January. Yanukovych has picked him to head economic policy as a deputy prime minister.
James Sherr of London's Chatham House tells RFE/RL's Ukrainian Service that Yanukovych's decision to choose a cabinet of close allies instead of forming a broad-based reform government means policy will be influenced chiefly by Yanukovych's backers. He calls them "less competitive businesses that do not welcome globalization and real competition."
"It's going to be a coalition that's very reassuring for rent-seeking bureaucracies who earn their money at the expense of real entrepreneurship in the country," he says. "And it will multiply channels of Russian influence on the new administration."
The End Of Orange Leadership
Tymoshenko's loss of the prime minister's seat was a final repudiation of the Orange Revolution's leaders amid widespread disillusionment in their political infighting and failed promises of reform.
Tymoshenko says she'll now lead a joint opposition. She accuses Yanukovych of stealing the election through fraud, and bribing members of parliament to abandon her coalition.
The new coalition includes 235 deputies from the 450-seat parliament. Its formation enables Yanukovych to avoid calling snap parliamentary elections, and helps him address his most pressing task: pulling Ukraine out of a devastating economic crisis.
The new president is keen to restart talks with the International Monetary Fund, which last year froze a $16.4 billion bailout.
Yanukovych is also steering Ukraine back toward Russia after five years of pro-Western rule. The Kremlin openly campaigned for him in 2004, when his victory in a rigged presidential election prompted the Orange Revolution that overturned the results and brought his rivals to power.
After his remarkable comeback, Yanukovych indicated he would put an end to Ukraine's drive to join NATO, which infuriated the Kremlin, and renegotiate a gas supply deal with Moscow, which some believe would enable him to reestablish closer ties with Russia's Gazprom.