President Vladimir Voronin's press office has asked Moldova's Constitutional Court to order a full recount of parliamentary elections won by his Communist Party but bitterly disputed by the opposition.
Voronin said in an official statement to the court, "I am convinced that a complete recount of votes will become a major argument for maintaining political stability, peace, and mutual trust in Moldova."
The three main pro-Western opposition parties -- the Liberal Party, the Liberal Democratic Party and the Our Moldova Alliance -- garnered only some 30 percent of the April 5 vote in total, as opposed to the ruling Communists' almost 50 percent, prompting accusations of fraud, including multiple voting by the same person and using the identities of absentees. Hundreds of thousands of Moldovans are currently living and working abroad -- a large portion of the country's population.
The Central Election Commission has already agreed to
opposition demands
to perform a check of the voter lists.
But one of the opposition leaders, Serafim Urechean of the Our Moldova Alliance, said that Voronin's call for a recount was not what the opposition wanted.
"This is a manipulation. This is an attempt to mislead both national and international bodies about the April 5 vote," Urechean said. "A recount of the ballots cannot be substituted for checking the voter lists. We are repeating this for Voronin to understand this, too, since he probably does not get it."
Urechean also said the four days given by the commission to perform the check through a complicated, time-consuming procedure amounts to procrastination, since local authorities had yet to give opposition representatives access to the lists.
Under Moldova's election laws, the final results, certified by the Central Election Commission, must be handed over to the Constitutional Court, which then has 10 days to give its own confirmation.
Protests Fizzle Out
Voronin's surprise move came as protesters failed to show up in large numbers in downtown Chisinau, in spite of an online campaign calling for a repeat of the mass protests on April 6-7. Some 90 people were injured on April 7 after the rally turned violent.
Messages posted on
social networks
such as Facebook and Twitter, but also on blogs had urged Moldovans to show up for a non-violent rally to protest against the ruling Communists' election victory.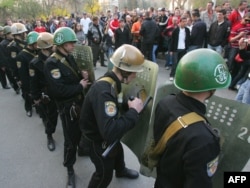 Many young demonstrators are still allegedly being held by the police without warrant.
But only about 200 protesters urging the Communist government to resign showed up for the rally. The mostly young protesters, who were heavily outnumbered by riot police and plainclothes police, shouted "Down with the Communists!" and "Resignation!"
The protesters carried flowers while others waved Moldovan and Romanian flags.
Would-be participants may have been intimidated by the wave of brutal reprisals against participants in the April 7 protests, as well as the stern warning issued late on April 9 by Communist Prime Minister Zinaida Greceanii, who threatened that firearms would be used in response to any disturbances.
Greceanii said that "the organizers of the greatest crime in the history," that is, the violent protests, "are planning to use children again" on April 10 and April 12 "to devastate other state institutions. If we all let this happen, human sacrifices will be very hard to avoid. Police will use all means necessary to protect the constitutionality of Moldova, including the use of arms."
Amid an atmosphere of fear in the capital, the Interior Ministry denied Russian press reports that the Kremlin had delivered boxes of tear-gas grenades to Chisinau on April 8.
RFE/RL Moldovan Service's Chisinau bureau chief, Vasile Botnaru, who has been following the events on the ground for the past several days, says that in the capital's main square, "There are only journalists here waiting for protesters to show up."
Botnaru notes that while it is raining, "it looks like the real reason for the protesters' absence is that either it was a false appeal or they are hesitating after the authorities applied enormous pressure and even warned they are going to open fire."
Protesters Held Without Warrant
The April 7 demonstration against the Communists' election victory turned violent when some protesters stormed the presidency and parliament buildings and clashed with security forces.
Voronin immediately accused the opposition and neighboring EU member Romania of orchestrating the violence, while opposition leaders in turn accused the government of orchestrating the violence as a provocation.
Up to 200 people were subsequently arrested, but there were reports and video footage of plainclothes police grabbing people from the streets or even classrooms and dragging them away.
Now, desperate parents were reportedly trying to obtain information about their children at police stations, when they failed to return home after taking part in the protests.
RFE/RL's Botnaru says many young people are still being held illegally in police custody, since so many parents continue to search for their children, "this is clear proof that there still are kids, minors, or even youths over 18 in police custody."
One father, Vasile Mata, who managed to get his son out, said that dozens of people know nothing about their children. He said that the police are holding young people "without arrest warrants, and they are not telling anyone anything."
Mata said that when he called the independent Pro TV television station "and they said they would send a camera crew, and that's when police officers told me, 'We'll give you your son to take home, but stay away from television, you'll only cause additional trouble [for yourself].'"
Meanwhile, Russia has called on the European Union to "protect Moldova's sovereignty" and expressed concern about what it said was the display of "Romanian flags" in Chisinau during the protests. Moldova was part of Romania until World War II and their flags are virtually identical. Some two-thirds of Moldova's population of 4.5 million are ethnic Romanian.
Russia supports Moldova's separatist region of Transdniester and has some 1,000 troops stationed there.
RFE/RL's Moldovan Service contributed to this report