SEOUL (Reuters) -- Iranian Nobel Peace laureate Shirin Ebadi has called on the UN chief to visit Iran to receive a first-hand account of human rights abuses and warned against sanctions because they would hurt the Iranian people.
Iran's June 12 election, which secured hard-line President Mahmud Ahmadinejad's reelection, plunged Iran into its biggest internal crisis since the 1979 Islamic revolution, exposed deepening divisions in its ruling elite and set off a wave of protests that left 26 people dead according to officials.
"I ask UN Secretary-General Ban Ki-moon to visit Iran," Ebadi told reporters in Seoul, where she picked up a local peace prize. "He must speak to the families whose members have been arrested or killed."
Ebadi contends that more than 100 people have been killed.
An ally of Iranian opposition leader Mir Hossein Musavi has said 69 people have been killed in the unrest, the "Sarmayeh" daily said on August 11. "The names of 69 people who were killed in postelection unrest...were submitted to parliament for investigation. The report also included the names of about 220 detainees," said Alireza Hosseini Beheshti.
Ebadi, Iran's most famous human rights lawyer, was awarded the Nobel Peace Prize in 2003 and has called for UN observers to scrutinize
a fresh vote
in Iran. Her influence in Iran is seen as limited, analysts said.
In an attempt to uproot the opposition, Iran began two mass trials of more than 100 people, including prominent figures, a French woman and two Iranians working for the British and French embassies in Tehran.
It charged them with spying and assisting a Western plot to overthrow the clerical rule. The United States and its European allies have rejected the trials as a "show," while Ebadi said they were "ridiculous" and must be stopped.
"The trials show that the administration is weak. These mass trials are not in line with the laws of Islam," she said through a translator.
The United Nations has imposed three rounds of sanctions on Iran so far, but there appears to be little appetite for a fourth round.
China and Russia, two of Iran's key trading partners, have made clear they will not accept new sanctions at the moment. The 27-member European Union, meanwhile, is split on the idea of targeting Iran's energy industry.
"I do not want economic sanctions but for the world to share the pain of the Iranian people," Ebadi said.
compiled from several Reuters reports
Iran Election Special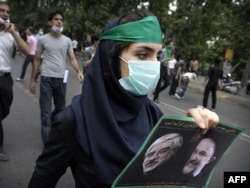 RFE/RL's Full Coverage
Following the disputed reelection of Iranian President Mahmud Ahmadinejad, supporters of Mir Hossein Musavi have taken to the streets to protest.
Click here
for news, blogs, and analysis of the presidential election and aftermath.