OSCE Foreign Ministers Meet For Talks On Avoiding Conflicts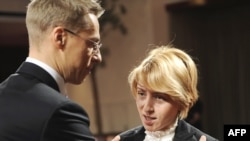 (RFE/RL) -- The annual ministerial meeting of the foremost European security body, the Organization for Security and Cooperation in Europe (OSCE), is under way in Helsinki. The two days of discussions in the Finnish capital are expected to focus on how to avoid conflicts on the territory of the 56-member OSCE, conflicts like the war between Russia and Georgia.

The meeting is being attended by some 50 foreign ministers, the largest contingent of full ministers since the organization was founded.

The OSCE chairman in office, Finnish Foreign Minister Alexander Stubb, says the meeting will be out of the ordinary. He's referring to the size of the gathering -- some 1,200 delegates in all -- and also its content.

'Dramatic Development'

The two main themes are scheduled to be the impact of developments in the Caucasus region, especially in Georgia, on European security, and a Russian plan for a new European security pact, which will be presented for the first time by Russian Foreign Minister Sergei Lavrov.

OSCE spokesman Martin Nesirsky describes the Russian-Georgian war as a "dramatic development" that is bound to color the atmosphere of the conference, but which won't necessarily poison it. The OSCE has come under criticism for reacting slowly to that war, and failing to stop it.

Stubb said the Russia-Georgia conflict provides the OSCE with fresh motivation to work to avoid such events in future.

"Now, the bad news is that we had a ferocious conflict and war in Georgia. It is something that I never want to see again. It was the first time in my life that I saw war close up. And this already gives me enough faith -- that we are here to try to solve these kinds of conflicts," Stubb said.

As to the Russian security initiative, Stubb said the conference should listen "with open ears and interest" to what Lavrov has to say on European security.

"This is going to be the first time -- first time -- that we discuss President [Dmitry] Medvedev's and [French] President [Nicholas] Sarkozy's proposals on a new European security," he said. "And I think it is going to be a fascinating discussion. And I hope as chairman in office that, at the end of the day, we come out with a reinvigorated, stronger OSCE."

A top U.S. official signaled on December 3 that Washington sees the Russian initiative as an effort to weaken NATO.

U.S. Deputy Assistant Secretary of State Matthew Bryza told Reuters, "There is no need for some new architecture and it's pretty transparent, I think, what that's all about. I think it's about looking for an alternative to NATO, which has worked so well. NATO makes Russia uncomfortable."

In Brussels on December 3, NATO Secretary-General Jaap de Hoop Scheffer also commented on the Russian plan, saying the allies are willing to discuss Moscow's proposals, but need to know their substance.

'Improvement And Progress'

OSCE ministers are also discussing the dispute between Azerbaijan with Armenia over the disputed enclave of Nagorno-Karabakh, and Moldova's breakaway Transdniester region.

In a joint statement, France, Russia, and the United States called on parties to the Nagorno-Karabakh conflict to build on the positive momentum established by the presidents of Armenia and Azerbaijan at their meeting in Moscow on November 2.

The three countries co-chair the OSCE's Minsk Group, which seeks to resolve the dispute. They said a "new and promising phase" has opened in the shared attempt to expand peace in the South Caucasus.

"We need to build on the momentum of the meeting in Moscow, we want to see the basic principles finalized, and they can be, soon, and we also want to see serious confidence-building measures, and finally we want to make sure that everyone realizes that there is only a peaceful settlement to this conflict; you cannot resolve this conflict in a military way," Bryza told RFE/RL.

On other themes, the OSCE ministers are expected to confirm that Kazakhstan, despite its democratic shortcomings, will become the first ex-Soviet republic to take the OSCE chairmanship in 2010.

One key figure who is not present in Helsinki is U.S. Secretary of State Condoleezza Rice, who cancelled her attendance to fly instead to India and Pakistan in a bid to cool the heat generated by the Mumbai terror attacks.