The Organization for Security and Cooperation in Europe (OSCE) has said it would send a 52-member police force to southern Kyrgyzstan.
Herbert Salber, director of the OSCE Conflict Prevention Center, told reporters on July 16 the pan-European security bloc and Kyrgyzstan have agreed to dispatch the group to the regions of Osh and Jalal-Abad.
He was speaking during an informal meeting in Almaty, Kazakhstan, ahead of the July 17 meeting of foreign ministers from the 56-member OSCE.
The gathering in Almaty is focused on what is happening across the border in Kyrgyzstan, where violence erupted in the country's south in June.
Salber said that the group would comprise "52 policemen representing the OSCE member states," and an OSCE statement added that 50 more officers could later be sent. Salber gave no precise time frame for any possible mission, but the press release said the advisory group would spend four months in Kyrgyzstan.
The advisory group still requires unanimous approval, which could come when the ministers and other officials gather on July 17.

Bloody Ethnic Clashes
Clashes between ethnic Kyrgyz and ethnic Uzbeks in the Osh and Jalal-Abad regions left at least 309 dead and displaced another 400,000.
With Kyrgyz officials estimating that some 2,500 homes, more than 100 commercial buildings, and 10 government buildings were destroyed or suffered major damage during the unrest, the situation remains volatile.
Ahead of the meeting, two foreign ministers were visiting Osh, Kyrgyzstan's second-largest city, to assess the situation for themselves.
German Foreign Minister Guido Westerwelle and his French counterpart Bernard Kouchner are flying into the city as part of a fact-finding tour that will also take them to Bishkek, where they will meet with President Roza Otunbaeva.
The OSCE meeting -- taking place at the Ak-Bulak resort outside Almaty -- comes amid a rising chorus of voices calling on the organization to take a more active role in helping stabilize the country.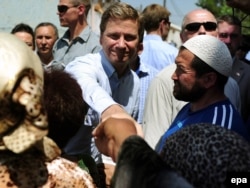 Westerwelle in Osh
The OSCE Parliamentary Assembly's special envoy for Central Asia had urged the organization to send international police to Kyrgyzstan to provide technical advice to local security forces.
Kimmo Kiljunen told reporters last month that he thought the presence of international police advisers could "create an atmosphere of trust" that could help ease tensions. He added that he was recommending a force that would not include "peacekeepers in the military terms" but rather be "an international police operation to offer technical advice."
Kiljunen also said EU foreign ministers have discussed the option of sending police to provide crisis-management support. However, the European Union itself has yet to indicate it has any plans to do so.
The Kyrgyz government has joined the call for an international police presence, with Otunbaeva saying hours before the gathering that such a mission is needed for maintaining security in Osh.
"These [international police] forces will work temporarily, within a limited period of four months here," Otunbaeva said. "We are going to reconstruct the city [of Osh]. For instance, they are needed for maintaining security in the city of Osh. They will be unarmed."
International Inquiry Needed
In addition to an international police force, there are also expectations that the OSCE will lead an international investigation into the June events.
Otunbaeva on July 16 agreed to a proposal that an international commission, to be headed by Kiljunen, be formed to look into the unrest. The commission would include representatives of the OSCE, EU, and the UN, and Otunbaeva said it should work closely with the Kyrgyz investigative commission.
During a joint news conference with Westerwelle in Osh, French Foreign Minister Kouchner said, "We would like to know who these groups are that provoked these incidents. These incidents and animosities go back a long way, but there were clearly provocations in this case and we want to know about them. So we support this proposal for an international investigative commission."
Ole Solvang, a researcher for Human Rights Watch, told RFE/RL from Bishkek that the Kyrgyz government and the OSCE have discussed the subject in the run-up to the Almaty conference.
"We do know that there have been discussions going on, there have been discussions between the government and the OSCE about an international police force," Solvang says," and there have also been discussions between the Kyrgyz government and various actors about an international investigation and it is very much our hope that the OSCE meeting in Almaty this weekend will take that discussion forward."
Security Questions
Human Rights Watch earlier this month issued a call for the OSCE to send police forces and open an international investigation. The group reported on July 14
widespread cases of torture and arbitrary detentions
in southern Kyrgyzstan of Uzbeks suspected of participation in the June violence.
If the OSCE ministers and high representatives discuss the calls for a police mission and an international investigation, a major question would be how to balance the organization's interests with those of the region's own multinational security grouping, the Collective Security Treaty Organization (CSTO).
The CSTO, which is led by Russia and includes Armenia, Belarus, Kazakhstan, Kyrgyzstan, Russia, Tajikistan, and Uzbekistan, is already sending equipment and funds to Bishkek to bolster the capabilities of Kyrgyz security forces. The CSTO has so far resisted sending any international police forces, despite early calls from Bishkek to do so.
This weekend's OSCE meeting is also expected to discuss topics ranging from European security to engagement with Afghanistan and possible topics for an OSCE summit.
Kazakhstan, which currently heads the OSCE, has said it hopes to host a formal summit of the organization this year. The group's last major summit was in Istanbul in 1999.