U.S. President Barack Obama has urged Azerbaijan's President Ilham Aliyev to do a better job protecting human rights in his country during a rare face-to-face meeting on the sidelines of the UN General Assembly in New York.

A White House statement said Obama echoed the message he delivered to the UN General Assembly on September 23 and urged Aliyev to implement democratic reforms in the ex-Soviet republic.

The statement also said Obama specifically appealed to Aliyev to free Adnan Hajizada and Emin Milli, two bloggers who posted a video satirizing the government who are serving jail sentences of more than two years.

The families of the two men publicly appealed to Obama this week to ask for their release, telling him his would "be a strong voice in the defense of free speech and fairness."

The White House said Obama also "expressed his appreciation for Azerbaijan's contributions to supporting the ISAF mission in Afghanistan" and "reaffirmed strong U.S. support for the OSCE Minsk Group process to resolve the Nagorno-Karabakh conflict."

The bilateral meeting was the latest attempt by the White House to mend relations with Baku. Obama is keen to repair frayed ties with Azerbaijan, which is a critical link in the Northern Distribution Network -- the supply line that delivers food and fuel needed by U.S. and NATO military forces in Afghanistan.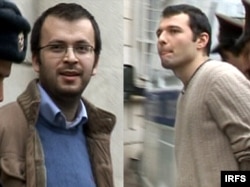 Imprisoned bloggers Emin Milli (left) and Adnan Hajizada
Azerbaijan is also a key player in Europe's energy security politics. With abundant oil and natural gas resources, and a location on the Caspian Sea, it's a key hub for delivering its own and Central Asia's energy supplies to Europe, bypassing Russia to the north and Iran to the south.

'Predator of Press Freedom'

But Washington has to perform a difficult balancing act with Baku. The two leaders met just one day after Obama delivered an impassioned speech at the UN General Assembly in which he said Washington would take a stronger role in promoting human rights and helping civil society groups that work to advance democracy around the world.

Under Aliyev, democratic freedoms have been under assault in Azerbaijan; journalists, democracy activists, and opponents of the government have been targeted for harassment and arrest. Reporters Without Borders counts Aliyev among its top 40 "Predators of Press Freedom."

For his part, Aliyev has made no secret of his unhappiness with U.S. foreign policy in the region.

A major cause of tension between the two governments is the U.S.-led effort to restore relations between Baku's close ally Turkey and Armenia, Azerbaijan's foe in the ongoing dispute over the breakaway region of Nagorno-Karabakh.

The mountainous region inside Azerbaijan, which was the site of a bitter six-year war between Armenia and Azerbaijan, has enjoyed de facto independence since a cease-fire was declared in 1994. But with an Armenian-majority population on the one hand, and legal ties to Azerbaijan on the other, Nagorno-Karabakh's long-term fate is far from settled.

Azeris 'Quite Unhappy' With U.S.


Andrew Kuchins, who directs the Russia and Eurasia Program at Washington's Center for Strategic and International studies, says Baku feels the White House is ignoring its interests.

"The Azeris have been quite unhappy with the Obama administration and relations with the U.S. for the past year or so," Kuchins says. "The principal irritation has been the emphasis that the Obama administration took right from the [start] in pushing for Armenian-Turkish normalization without taking into consideration Baku's concerns that there must be some kind of progress toward resolution in the Nagorno-Karabakh conflict between Armenia and Azerbaijan before that normalization can take place."

The Obama administration has declared that the restoration of relations between Yerevan and Ankara is separate from efforts to find a resolution to the Nagorno-Karabakh conflict, but Baku sees the two as linked.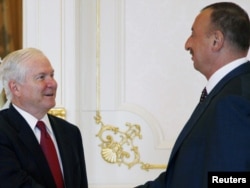 Aliyev (right) meets with U.S. Defense Secretary Robert Gates in Baku in June.
It considers the status quo -- a closed border between Turkey and Armenia -- as working to its advantage in the Nagorno-Karabakh conflict. Baku also fears that an open border will strengthen Russia's hand in the region because its ally, Armenia, will become economically stronger.

Washington holds the opposite view -- that an Armenia which can trade freely with Turkey will become less dependent on Russia, more open to the West, and Moscow's influence will wane.

Despite these difficulties, Washington sees its relationship with Baku as strategically important and worth the effort to upgrade.

Two of Obama's top cabinet members have been to Baku in recent months to try and smooth things over. Secretary of State Hillary Clinton visited in July and Defense Secretary Robert Gates went in June, carrying a personal letter from Obama to Aliyev.

In that letter, Obama thanked Aliyev for Azerbaijan's contribution of military personnel in Afghanistan and for granting land and air rights to U.S. military aircraft and supply trucks.

He told Aliyev that the "peaceful resolution to the Nagorno-Karabakh conflict" would remain a top U.S. foreign-policy priority and said, "It is my hope that we will be able to broaden and deepen our relationship in the months and years ahead."

Obama's message to Aliyev in New York will blunt some of the criticism that followed Clinton's visit this summer. Human rights groups in both Azerbaijan and the United States faulted her for not speaking out forcefully enough against the government's repressive policies.

The same critique has been leveled at the White House in its efforts to reset relations with Russia, but Kuchins says he disagrees with those who say the Obama administration is compromising its principles to shore up its strategic partnerships.

"The Obama administration has taken a quieter approach on human rights issues in the region and issues of civil society and democratic development, which has drawn some criticism," he says, "but to say that that we've turned a blind eye to it would be going way too far."