WASHINGTON -- It wasn't the sort of celebratory vodka toast Russian President Dmitry Medvedev is probably used to, but in America, a cheeseburger and Coke is a fitting subsitute.

So that's how Medvedev and President Barack Obama marked what both leaders agree is a successful reset in their two country's relationship -- over a shared fast food lunch on June 24 at a popular hamburger place just outside Washington called Ray's Hell Burger.

The spontaneous outing, which delighted fellow customers and made instant national headlines, came after a morning of what Obama called "excellent discussions" at the White House focusing on security, economic, and trade issues.

The Russian leader arrived in the United States on June 22 and spent two days in California, meeting with CEOs of high-tech companies and wooing potential investors whom he hopes will help him achieve his goal of diversifying the oil-dependent Russian economy.

At a joint White House press conference, the two leaders pointed to recent milestones in their governments' cooperation, which include a major new nuclear arms control agreement (START) and support for sanctions against Iran over its suspect nuclear program.

Medvedev said the efforts are already paying peace dividends.

"In recent time we have made some good steps in strengthening trust between our two countries and establishing a more solid structure of our relationship. I can say that to some degree we have made our world more secure," he said.

Trade Victory

The relationship reset may have advanced the two countries' security goals, but it hasn't been as effective at improving Russia's poor human rights record, which activists in both countries maintain has been swept under the carpet so that progress can be made on more strategic fronts.

Like trade.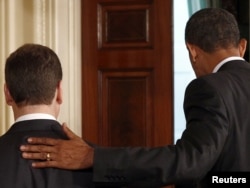 Obama and Medvedev leave a joint press conference at the White House.
Medvedev scored a huge victory on this visit when he secured Obama's enthusiastic endorsement of Russia's membership in the World Trade Organization. Moscow has long sought U.S. support and today Obama said membership for Moscow would "deepen Russia's integration into the global economy."

Obama event went a step further, promising Medvedev that the United States would help him with his goal of transforming Russia into a world-class economy where foreign investors want to do business.

Obama told Medvedev, "Mr. President, the United States will be your partner as you promote the transparency, and accountability, and rule of law that's needed to infuse the spirit of innovation throughout your economy."

Russia has the world's eighth-largest economy but ranks 25th among U.S. trading partners.

Counterterrorism Cooperation

Along with U.S. support for its accession to the elite economic club, the Russian leader will return to Moscow with a pledge from computer giant Cisco systems to invest $1 billion in Russia over 10 years to help foster high-tech innovation.

Obama also announced that two governments had agreed to broaden their cooperation on counterterrorism efforts, including intelligence gathering and sharing.

But he acknowledged that differences between Moscow and Washington remain, including on Georgia, which fought a brief war with Russia in August of 2008 and whose two breakaway republics of South Ossetia and Abkhazia are still being fought over by Moscow and Tbilisi.

"Our two countries continue to disagree on certain issues, such as Georgia, and we addressed those differences candidly," Obama said. "But by moving forward in areas where we do agree we have succeeded in resetting our relationship, which benefits regional and global security."

On Kyrgyzstan, where weeks of political upheaval and ethnic clashes have potential serious repercussions for both Russia, a regional actor, and the United States, which rents a strategically important military base from it, the two men said they had agreed to coordinate their diplomatic and humanitarian aid efforts.

'Viable Government'

Former President Kurmanbek Bakiev was driven from power in April amid corruption allegations and his ouster has triggered weeks of political and ethnic violence that has left more than 250 people dead by official counts and 400,000 homeless.

Medvedev expressed worry that the political situation in the country could spiral out of control and said both Moscow and Washington "hope the election process [in Kyrgyzstan] will produce a viable government that is capable of resolving the tasks that the state confronts now."

He added, "Otherwise, Kyrgyzstan will face degradation and, unfortunately, possible division. And all of us are concerned that radicals may come to power under such conditions and then we'll have to face the same tasks that are now being solved in other regions...For example, the tasks that are being solved in Afghanistan now."

Medvedev also said that in his role as chairman of the regional security group made up of former Soviet states known as the Collective Security Treaty Organization (CSTO) he is prepared to act if conditions justify a peacekeeping force. So far the group has not considered it necessary, he said.

Talking Chicken

Amid all the talk of agreement and friendship reset, the only party with reason to be unhappy might be chickens. Obama announced that a deal has been reached to allow the United States to resume poultry exports to Russia.

Russia was once the largest overseas buyer of U.S. chicken but earlier this year banned the meat, claiming a chlorine rinse used in U.S. processing plants violated its food safety rules. Shares of top U.S. chicken companies rose after the announcement.

At one point in the press conference, Obama noted that Medvedev had opened a Twitter account while visiting the company's headquarters in California. Obama mentioned that he also has a Twitter account and cracked a joke about tossing out "those red phones that have been sitting around for so long" -- referring to the Cold War-era direct hotline between U.S. and Kremlin leaders.

It was just one of many light moments that punctuated the two men's day together.

As the leaders walked back to the motorcade under a blazing Washington sun after their fast-food lunch, Medvedev observed, "Probably it's not quite healthy, but it's very tasty, and you can feel the spirit of America."