(RFE/RL) -- U.S. President Barack Obama has blamed "human and systemic failures" for allowing a would-be bomber onto a plane bound for the United States on Christmas day.
Speaking in a briefing from Hawaii late on December 29, Obama said a "catastrophic breach of security" had allowed the 23-year-old Nigerian suspect, Umar Farouk Abdulmutallab, to board a plane to the United States despite his suspected links to Al-Qaeda and warnings from the suspect's father.
Abdulmutallab, who is currently in U.S. detention, has been charged with attempting to blow up a plane with an incendiary device.
This was Obama's second statement in two days on the case. It reflected growing debate in the United States on the reliability of the country's security screening system for travelers, amid criticism by opposition Republicans.
Abdulmutallab, who has claimed links to the Yemeni branch of Al-Qaeda, was first brought to the attention of American officials in November, when his father went to the U.S. Embassy in Nigeria.
Abdulmutallab's father -- a prominent banker in Nigeria -- told embassy officials that his son had gone missing, shortly after expressing radical views. He requested U.S. help in locating him.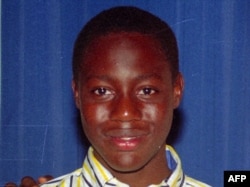 Umar Farouk Abdulmutallab
According to "The New York Times," the U.S. Embassy sent the information to the State Department in Washington and Umar Farouk Abdulmutallab's name was included in a database of some 550,000 people with possible links to terrorism.
But he was not put on the much-smaller U.S. "no-fly" list of some 4,000 people. And the information appears not to have been passed on to other U.S. government bodies.
At the same time, officials told "The New York Times" that other government agencies had intelligence from Yemen that leaders of a branch of Al-Qaeda were talking about a Nigerian being readied for a terrorist attack.
"The Washington Post" also reports that over the past year, Abdulmutallab had been corresponding with an extremist Yemeni-American cleric, Anwar al-Aulaqi, who also kept in touch with the U.S. Army major accused of last month's massacre at the Fort Hood military base in Texas.
Obama, in his remarks, said it was clear that crucial lapses in information sharing allowed the suspect to board the plane.
"Had this critical information been shared, it could have been compiled with other intelligence and a fuller, clearer picture of the suspect would have emerged," Obama said. "The warning signs would have triggered red flags and the suspect would have never been allowed to board that plane for America."
Obama promised there would be changes.
"When our government has information on a known extremist, and that information is not shared and acted upon as it should have been, so that this extremist boards a plane with dangerous explosives that could have cost nearly 300 lives, a systemic failure has occurred," he said. "And I consider that totally unacceptable."
Obama said he has issued an order directing national security agencies to produce a comprehensive report by December 31 detailing all available intelligence in U.S. files on Abdumutallab, prior to the alleged attempted attack. A second order demands a review of aviation screening systems.
"The reviews I've ordered will surely tell us more. But what already is apparent is that there was a mix of human and systemic failures that contributed to this potential catastrophic breach of security," Obama said. "We need to learn from this episode and act quickly to fix the flaws in our system because our security is at stake, and lives are at stake."
Opposition Republicans have increased their attacks on the Obama administration in recent days over national security. A particular target has been Homeland Security Secretary Janet Napolitano, who originally said that "the system worked." She subsequently backtracked, saying her statement had been taken out of context.
with agency reports