U.S. President Barack Obama has accused the British-based oil giant BP of "recklessness" and vowed to make the company pay for the damage caused by the oil spill in the Gulf of Mexico.
Obama used a televised address from the Oval Office late on June 15 to call for a new "national mission" to wean America off fossil fuels.
"The tragedy unfolding on our coast is the most painful and powerful reminder yet that the time to embrace a clean energy future is now," Obama said. "Now is the moment for this generation to embark on a national mission to unleash American innovation and seize control of our own destiny."
The address comes as Obama seeks to quell growing criticism of his leadership over the crisis, eight weeks into the disaster. Opinion polls suggest a majority of Americans disapprove of how Obama has handled what is now the worst environmental disaster in U.S. history.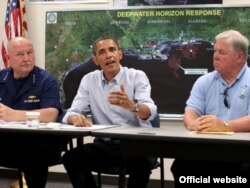 Obama (center) with Coast Guard Admiral Thad Allen (left) and Mississippi Governor Haley Barbour in Gulfport, Mississippi, on June 14.
Obama likened the spill to an "epidemic" and vowed to fight it "with everything we've got for as long it takes."
His speech comes just ahead of his meeting in the White House on June 16 with top BP executives.
Obama said he would inform BP Chairman Carl-Henric Svanberg that "he is to set aside whatever resources are required to compensate the workers and business owners who have been harmed as a result of his company's recklessness."
In order "to ensure that all legitimate claims are paid out in a fair and timely manner," Obama said such a fund -- likely in the billions of dollars -- must be administered by an "independent third party" – not by BP.
But it's unclear how his administration could force the firm to set up such a fund.
In response to Obama's speech, BP said in a statement that it shared Obama's goal of cleaning up the oil and helping the people affected by the spill. The company said it was looking forward to the June 16 meeting "for a constructive discussion about how best to achieve these mutual goals."
Obama also used the address push for sweeping energy and climate change legislation to wean America off what he called its fossil-fuel "addiction."
"For decades, we have known the days of cheap and easily accessible oil were numbered. For decades, we have talked and talked about the need to end America's century-long addiction to fossil fuels. And for decades, we have failed to act with the sense of urgency that this challenge requires," he said. "Time and again, the path forward has been blocked not only by oil industry lobbyists, but also by a lack of political courage and candor."
Obama also said: "We can't afford not to change how we produce and use energy because the long-term costs to our economy, our national security, and our environment are far greater."
Oil-covered pelicans found off the Louisiana coast wait in a holding pen for cleaning.
The House of Representatives has already passed an energy reform bill, but the legislation faces stiff opposition in the Senate.
Republicans quickly criticized the address, with party leaders accusing Obama of exploiting the crisis for his own political gain.
Obama also announced he had picked former Justice Department Inspector-General Michael Bromwich to head the agency that regulates the oil industry. He is replacing Elizabeth Birnbaum, who stepped down as director of the Minerals Management Service following accusations of lax oversight of drilling and cozy ties with the industry.
"One of the lessons we've learned from this spill is that we need better regulations, better safety standards, and better enforcement when it comes to offshore drilling," Obama said. "But a larger lesson is that no matter how much we improve our regulation of the industry, drilling for oil these days entails greater risk."
Oil has been gushing into the Gulf of Mexico since a drilling rig leased by BP exploded on April 20. The spill has soiled 200 kilometers of coastline, killing wildlife and imperiling the region's fishing and tourism industry.
Obama said his government has directed BP to mobilize "additional equipment and technology" to capture the leaking oil and plug the leak.
"In the coming days and weeks, these efforts should capture up to 90 percent of the oil leaking out of the well," he said. "This is until the company finishes drilling a relief well later in the summer that is expected to stop the leak completely."
Estimates of how much oil was gushing out of the well before a cap was put in place have risen dramatically. Initially, experts said about 15,000 barrels were leaking each day, but scientists now believe the figure was closer to 60,000 barrels.
written by Antoine Blua