(RFE/RL) -- U.S. President Barack Obama addressed thousands of soldiers, their families, and their commanders at a somber memorial service on November 10 for the 13 people killed last week by a man authorities have identified as an Army psychiatrist.
Speaking at the Fort Hood Army base in Texas, the site of the killings, the president said the slain soldiers' legacy is that they made their country, and the world, a safer place.
"Their life's work is our security, and the freedom that we all too often take for granted," Obama said. "Every evening that the sun sets on a tranquil town; every dawn that a flag is unfurled; every moment that an American enjoys life, liberty, and the pursuit of happiness -- that is their legacy. Neither this country -- nor the values upon which we were founded -- could exist without men and women like these 13 Americans."
Obama said it's common for people to look to the past for heroes, such as a grandfather who served in World War II, or a father in Vietnam. But he said Americans also can look to the present in search of valor, because today's U.S military is made up of courageous volunteers.
"They have served tour after tour of duty in distant, different, and difficult places. They have stood watch in blinding deserts and on snowy mountains. They have extended the opportunity of self-government to peoples that have suffered tyranny and war," Obama said.
"They are men and women; white, black, and brown; of all faiths and all stations -- all Americans, serving together to protect our people, while giving others half a world away the chance to lead a better life."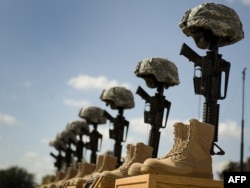 A memorial to the fallen soldiers
Below the stage where the president spoke were 13 pairs of combat boots, each topped by a rifle and a helmet -- a tribute to the 12 soldiers and one civilian killed.
Obama described each of the fallen in personal detail -- their experiences and skills, their family members and hopes.
He only spoke once of the man accused of the killings, Major Nidal Hasan, a Muslim from the state of Virginia who is said to have loathed the idea of being deployed to one of America's war zones, either Iraq or Afghanistan.
Without mentioning Hasan by name, Obama said that he, like most Americans, was struggling to understand what could drive a man to kill his comrades.
"It may be hard to comprehend the twisted logic that led to this tragedy. But this much we do know: no faith justifies these murderous and craven acts. No just and loving God looks upon them with favor," Obama said. "For what he has done, we know that the killer will be met with justice -- in this world, and the next."
Since the killings, reports have surfaced that Hasan shouted "Allahu Akbar!" (God is great!) before opening fire on his fellow soldiers.
Hasan, who was shot several times during the attack, has recently come out of a coma and is reportedly talking to medical personnel. He has declined to speak with military or law enforcement officials and asked for a lawyer.
On the day of the memorial service, "The Washington Post" reported that Hasan told a group of fellow physicians in 2007 that the U.S. military should give Muslim soldiers a dispensation from fighting against fellow Muslims, to avoid "adverse events."
Obama said he was especially troubled that in a time of war, a soldier had turned his gun on fellow soldiers in his own country.
"This is the fact that makes the tragedy even more painful, even more incomprehensible. For those families who have lost a loved one, no words can fill the void that's been left," he said. "We knew these men and women as soldiers and caregivers. You knew them as mothers and fathers, sons and daughters, sisters and brothers."
The memorial service ended with rifles firing volley salutes, and a bugler playing "Taps," the U.S. military's traditional send-off for fallen comrades.