U.S. President Barack Obama has announced that he's committing a large number of fresh troops to the war in Afghanistan and outlined an exit strategy under which Americans will begin leaving the country in 18 months.

In a widely awaited speech to cadets and faculty at the U.S. Military Academy in West Point, New York, Obama said he was acting in the United States' "vital national interest" following the Al-Qaeda attacks of September 11, 2001.

"I do not make this decision lightly," Obama said. "I make this decision because I am convinced that our security is at stake in Afghanistan and Pakistan. This is the epicenter of the violent extremism practiced by Al-Qaeda; it is from here that we were attacked on 9/11, and it is from here that new attacks are being plotted as I speak."

Obama's administration has been mulling the future course of U.S. military activity in Afghanistan under pressure from both sides of the political spectrum, with a majority of Americans reportedly reluctant to face an escalation in the eight-year-old war.

Obama warned that in the past few months, extremists from the Afghan-Pakistani border region who had planned acts of terror against Americans have been arrested in the United States.

He said such threats will only grow if the United States fails to take firm action to eliminate Al-Qaeda's leadership and prevent the Taliban from regaining power in Afghanistan.

The United States launched its Afghan effort just one month after the devastating attacks that killed more than 3,000 people and were blamed on Osama bin Laden's Al-Qaeda network.

Seeking Help

Obama said that U.S. troop strength in Afghanistan will increase to about 100,000 in the spring of 2010 and that the number of NATO forces there will rise from the current 40,000 to 45,000 or even 50,000.

It was not immediately clear whether U.S. allies in the Afghan campaign were prepared to commit thousands more troops.

French President Nicolas Sarkozy welcomed his U.S. counterpart's speech as "courageous, determined, and lucid," but stopped short of saying his country would follow suit, according to Reuters. Sarkozy, who days ago rejected the idea of more French troops, said Obama had given "new impetus to the international commitment and open[ed] new prospects."

Obama said U.S. forces would begin their withdrawal in July 2011.

Afghans will increasingly be expected to shoulder the burden of ensuring Afghan security, Obama added.

These additional American and international troops will allow us to accelerate handing over responsibility to Afghan forces and allow us to begin the transfer of our forces out of Afghanistan in July of 2011," Obama said. "Just as we have done in Iraq, we will execute this transition responsibly, taking into account conditions on the ground."
He added: "We'll continue to advise and assist Afghanistan's security forces to ensure that they can succeed over the long haul. But it will be clear to the Afghan government -- and, more importantly, to the Afghan people -- that they will ultimately be responsible for their own country."
WATCH: RFE/RL Radio Free Afghanistan Director Akbar Ayazi talks about reservations among Afghans toward Obama's new AfPak strategy:


Relations between Kabul and Washington have been strained over perceptions of corruption and poor governance under Hamid Karzai, who has been Afghanistan's dominant leader since taking over under a UN-backed scheme after the fundamentalist Taliban regime was ousted.
Embattled Region
While Obama made clear he expects more from the Afghan president, he expressed solidarity with the Afghan people.
Obama said Afghanistan should be allowed to live in peace after decades of war, beginning with the Soviet invasion of 1979, followed by civil war in the 1980s and the intrusion of Al-Qaeda in the 1990s.
"We have no interest in occupying your country," Obama said in comments directed at Afghan's 28 million people. "We will support efforts by the Afghan government to open the door to those Taliban who abandon violence and respect the human rights of their fellow citizens. And we will seek a partnership with Afghanistan grounded in mutual respect -- to isolate those who destroy; to strengthen those who build; to hasten the day when our troops will leave; and to forge a lasting friendship in which America is your partner, and never your patron."
Obama also stressed the importance of Afghanistan's nuclear-armed neighbor, Pakistan, in stabilizing Afghanistan. He acknowledged that U.S. policy on Pakistan had been defined "narrowly" and would now change.
"We [NATO countries] are committed to a partnership with Pakistan that is built on a foundation of mutual interest, mutual respect, and mutual trust," Obama said. "We will strengthen Pakistan's capacity to target those groups that threaten our countries, and have made it clear that we cannot tolerate a safe haven for terrorists whose location is known, and whose intentions are clear."
He added that the United States was "also providing substantial resources to support Pakistan's democracy and development" and described his country as "the largest international supporter for those Pakistanis displaced by the fighting."
From now on, Obama said, the United States will be a strong backer of Pakistan, both economically and militarily, long after the Afghan war is over.
Domestic Concerns
Mindful that he has many American critics of his policy, both on the right and the left, Obama spoke against the argument that Afghanistan is nothing but a 21st-century version of the Vietnam War, which is probably the worst chapter in U.S. military history.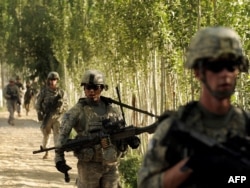 U.S. soldiers from the 2nd Platoon Alpha 3-71 Cavalry patrol near a village in Logar Province, Afghanistan
The president called that argument specious, saying that, unlike in Vietnam, the Afghan war is being fought by 43 countries, the Afghan insurgency is unpopular, and Vietnam didn't provide a launching pad for deadly attacks against the United States.
Recent polls, however, show a little more than half of Americans surveyed disapprove of Obama's handling of Afghanistan, while only about one-third approve. In that light, the president said it's become difficult to remember that when the Afghan war began, Americans were united in their approval of going after Al-Qaeda and the Taliban.
Obama said he believed Americans can find that unity again, as they have in the past.
Still, the president's Afghan policy faces opposition from both the right and the left sides of the political spectrum.
Michael Rubin, who studies the Islamic world at the American Enterprise Institute, a conservative policy-research center in Washington, told RFE/RL's Radio Farda that he's encouraged that Obama is willing to send more troops into Afghanistan.
But he expressed concern at the announcement that U.S. forces would leave "by 2011."
"President Obama...may think that this is the proper thing to say, but if the United States is going to withdraw from Afghanistan, then all the neighboring states are going to assume that they should start preparing to fill the vacuum," Rubin said. "So rather than bring stability to Afghanistan, I'm afraid the strategy will be counterproductive."
Marina Ottaway of the Carnegie Endowment for International Peace, another Washington think tank, countered that she agreed to some extent with Obama's rejection of Afghanistan as an analogue of Vietnam. She added that one point was unassailable: More troops can't guarantee success in a country as tribal as Afghanistan.
Ottaway added that if Obama had decided to end Afghan operations immediately, he would have faced a full-throated denunciation from Republicans in Congress.
Criticism from Obama's fellow Democrats seeking an early exit, she said, might be mild in comparison and easier to weather.
"I think he has made as strong a case as possible for why we have to continue the war," Ottaway said. "I think he's not going to be able to remove the doubt whether or not this is a war that we can win, and therefore it is worthwhile to send in even more troops. I think that doubt is going to remain. So I don't think he has changed the minds of too many people -- also because, I think, everybody has made up their mind in advance."