Russia's embattled and marginalized opposition will get a badly needed boost when some of the Kremlin's fiercest critics meet with U.S. President Barack Obama in Moscow.
Obama is scheduled to attend a civil society summit organized by nongovernmental organizations on July 7, followed by a meeting with opposition leaders including Boris Nemtsov, a founder of the umbrella group Solidarity, and former world chess champion Garry Kasparov, who heads the Other Russia movement.
In an interview with RFE/RL, Nemtsov said he didn't expect "anything earth-shattering" to come from the meeting, which will also be attended by Sergei Mitrokhin of the liberal Yabloko party and by Communist leader Gennady Zyuganov. But symbolically, he said, the gathering was significant.
"It is important for Russia that the world knows that Russia isn't just official Putinism, with its strategy of corrupt state capitalism," Nemtsov said.
"There are also people and political forces who absolutely do not agree with this. There are people who understand that this is a dead end and that there is an alternative," Nemtsov said. "That alternative is a free and democratic Russia."
Nemtsov said Obama's decision to meet opposition leaders during a summit with Russian President Dmitry Medvedev is a strong signal that the White House still intends to support human rights and democracy in Russia, even as it seeks to improve relations with Moscow.
He said it is reminiscent of the late U.S. President Ronald Reagan's decision to receive the dissident physicist and Nobel laureate Andrei Sakharov in the Oval Office in 1988, at a time when the United States was closely engaged with Soviet leader Mikhail Gorbachev.
"President Reagan had good relations with Gorbachev. But he also met with Sakharov, even though this probably didn't make the Kremlin happy," Nemtsov said.
"The American president cannot not meet with people who are working for freedom, the rule of law, and democracy," he said. "This isn't an option for him."
'This Is Not 1974'
Speaking to reporters before Obama left Washington for Moscow, Michael McFaul, the White House National Security Council's senior director for Russian and Eurasian affairs, said the president sought to establish a "direct relationship with the Russian people" as well as better relations with the Kremlin.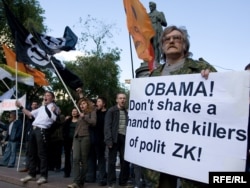 Russians rally on July 6 to urge the U.S. president to be mindful of "ZK," shorthand for the country's political prisoners.
"As we reset relations with the Russian government, we also want to reset relations with Russian society," McFaul said. "The idea here is that this is not 1974, this is not where we just go over and do an arms control agreement with the Soviets, but that we have a multidimensional relationship with the Russian government and the Russian people."
Some analysts warned, however, that given the almost visceral anti-American sentiment in Russian society today, any U.S. president, even one as globally popular as Obama, runs the risk of harming the opposition by getting too close to it.
Dmitry Travin of the Center for Modernization Studies at the European University of St. Petersburg, said the way Obama could have the most positive and lasting effect on Russia would be to rehabilitate the United States' global reputation so it could again serve as a model for Russian democrats.
"The reputation of the United States [in the world] strongly influences the political situation in Russia," Travin said.
"As the United States' reputation has fallen dramatically since the Iraq war, Russian liberals and Westernizers have become weaker. This is because there wasn't a moral authority on which liberals could draw, as was the case 10 or 20 years ago; this made it harder to convince people to adopt democratic and market values," Travin said. "If the United States' reputation rises to the level it enjoyed in Reagan's times, then it is possible to change the consciousness of Russian society."
Tandem Politics
Some opposition figures have warily placed their hopes in Medvedev, who is seen as potentially more open to liberalizing Russia's politics than his hard-line predecessor Vladimir Putin, now the prime minister.
According to most analysts, however, Putin remains Russia's de facto ruler largely due to his control over the country's security services.
Speaking at the Council on Foreign Relations in late June, Nemtsov appealed to Obama to bolster Medvedev vis-a-vis Putin so Russia will "have a chance to come back to liberalization, to democratization."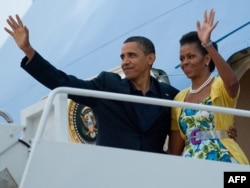 U.S. President Barack Obama and First Lady Michelle depart for Russia on July 5.
Just days before his departure for Moscow, Obama seemed to do just that. In an interview with the Associated Press on July 2, the U.S. president said he had "developed a very good relationship" with Medvedev but noted that "Putin still has a lot of sway."
Obama added that Putin had a "Cold War" approach to the U.S.-Russian relationship, "with one foot in the old way of doing business."
Asked if he thought his Council on Foreign Relations speech influenced Obama, Nemtsov was coy.
"Obama is a smart man and he listens to good people. Did he listen to me? I don't know," Nemtsov said. "But the fact that he is affirming that Medvedev is the president and is responsible for international relations and strategic issues is the correct position. This helps Medvedev as the president and it helps Obama by showing that America supports the rule of law and not the rules of the underworld."
Obama's move came at a time when Russia's political elite is more divided than it has been in a decade, with opposing factions drawing diametrically opposed lessons from the deepening economic crisis.
Technocrats surrounding Medvedev argue that Russia's political system needs to be liberalized and its economy diversified. Security service veterans close to Putin, meanwhile, are furiously trying to maintain the status quo.
Not Without Risks
Analysts say Obama's move to inject himself into Russian domestic politics in such an overt way carries risks. Not least among these is the fact that Putin could easily undermine any agreements the presidents Obama and Medvedev reach.
Obama's breakfast meeting with Putin on July 7 morning is therefore crucial.
"A lot depends upon whether Obama and Putin find the right tone in their discussion," Fyodor Lukyanov, editor in chief of the journal "Russia In Global Affairs," told RFE/RL's Russian Service.
"It is possible to imagine Obama reaching an agreement with Medvedev, but not finding common ground with Putin. In that case, carrying out any agreement will be less likely to happen," Lukyanov said.
Last month, for example, Putin blindsided U.S. and European officials -- and even some of Medvedev's aides -- when he announced out of the blue that Russia was abandoning its effort to join the World Trade Organization (WTO). Putin said Russia would instead try to join the WTO in conjunction with Belarus and Kazakhstan.
Some analysts are not convinced that Medvedev would liberalize Russia's authoritarian politics if given the chance.
"If Obama establishes good relations with Medvedev, that could increase Medvedev's authority within the establishment. It could also strengthen those in the establishment who think that Putin is bad and Medvedev is good," Travin said.
"But the question remains whether Medvedev really wants to change anything," he said. "Up until now, Medvedev has taken some symbolic steps, but he hasn't made any real moves to liberalize the country, and may not make any."