MOSCOW -- U.S. President Barack Obama and his Russian counterpart Dmitry Medvedev have pledged to try to put their relations on a new footing during their first summit meeting in the Russian capital.
The two countries signed a preliminary agreement over a major new nuclear-arms deal. But many believe the positive atmospherics represent only a possible first step toward bridging fundamental differences that have sunk relations to Cold War lows.
Obama and Medvedev addressed reporters in a lavishly gilded Kremlin hall following hours of talks.
The U.S. president said the two leaders had resolved to reset a relationship suffering from "drift."
"Today, after less than six months of collaboration, we've done exactly that by taking concrete steps forward on a range of issues while paving the way for more progress in the future," Obama said.
STARTing Point
The two former Cold War rivals agreed to cut their massive nuclear weapons arsenals, the issue Obama said was at the top of the agenda.
"We have signed a joint understanding for a follow-on treaty to the START agreement that will reduce our nuclear warheads and delivery systems by up to a third from our current treaty limitations," Obama said. "This legally binding treaty will be completed this year."
The agreement, which would replace the 1991 START treaty that expires in December, calls for each side to reduce the number of their operationally deployed nuclear warheads to 1,500-1,675.
Those numbers amount to only two dozen fewer than currently agreed targets under the 2002 Moscow Treaty.
'Special Responsibility'
The two sides signed seven other agreements on a range of issues, including a pledge from Russia to allow the United States to ship weapons and other lethal supplies across Russian territory to NATO forces in Afghanistan.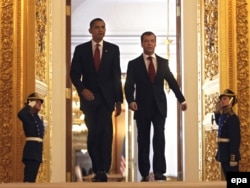 Medvedev (right) called the talks "positive, open, and businesslike."
A satisfied-looking Medvedev praised his talks with Obama as "positive, open, and businesslike." He repeated several times what he said was the importance of Russia's relations with the United States for the rest of the world.
"Such powerful states as the United States and Russia carry special responsibility for everything that happens on our planet," Medvedev said.
But Obama said the day's meetings were just a first step toward bridging deep divisions.
Missile Defense
At the top of the list is Russian anger over plans for a missile-defense system in Europe. Medvedev praised as progress what he said was Washington's new understanding of Russian fears that the shield would be aimed against Russia.
But Obama did not bend on Washington's insistence the shield would be directed against the threat of missiles from rogue states such as Iran and North Korea, saying he believed cooperation with Russia was possible.
"I think we can arrive at those kinds of understandings," Obama said, "but it's going to take some hard work because it requires breaking down long-standing suspicions."
Areas Of Disagreement
Obama said Washington and Moscow disagree over other issues, including Georgia. Russia's invasion of the U.S. ally last summer plunged relations to Cold War lows.
"We had a frank discussion on Georgia and I reiterated my firm belief that Georgia's sovereignty and territorial integrity must be respected," Obama said.
Obama and Medvedev also discussed nuclear programs in North Korea and Iran, over which the two sides issued a statement on cooperation.
The news conference addressed chiefly security issues, and contained no talk about American criticism of Russia's perceived backpedaling on democracy and its human rights record.
Kremlin critics say that suits Moscow, whose main interest in the summit is to stress its importance on Cold War-era issues in order to amplify its role in the world.
Day-Two Plans
Obama's agenda for June 7 is expected to produce less praise from the Kremlin. The U.S. president will meet former Soviet leader Mikhail Gorbachev, as well as opposition leaders and human rights activists taking part in a conference on civil society.
The White House has said the meetings were an important part of Obama's visit.
Obama will also meet Prime Minister Vladimir Putin, who most Russians believe continues to rule Russia behind the scenes since stepping down as president last year.
Obama and Putin exchanged testy statements in interviews ahead of the summit. But speaking at his Kremlin news conference, Obama sidestepped a question about who he thinks really runs Russia.
"They allocate power in accordance with Russia's form of government, in the same way that we allocate power in the United States," Obama said, "and so my interest is in dealing directly with my counterpart, the president, but also to reach out to Prime Minister Putin and all other influential sectors in Russian society."