(RFE/RL) – U.S. President Barack Obama is set to wrap up his visit to Turkey, the first he has made to a majority-Muslim country since taking office.
He can bask in the generally good reviews for the way he sidestepped the potential pitfalls of such a visit, and managed to accentuate Turkey's secular, democratic traditions as well as its proud Islamic heritage.
Before he left, Obama toured some of Istanbul's famous landmarks,. accompanied by Turkish Prime Minister Recep Tayyip Erdogan. They visited the famed Hagia Sofia and the nearby Blue Mosque.
Earlier in the day, Obama met religious leaders, namely representatives of Islam, the Jewish faith, and various Christian churches at his hotel.
After the tourist tour, Obama met Turkish university students, where he was open to questions. He was expected to carry forward the theme of his earlier speeches, namely that the United States wants to turn a new page in its relations with Muslims.
In his address to the Turkish parliament in Ankara on April 6, Obama said these relations should be broad-based, not limited to a shared interest in fighting terrorism.
"I also want to be clear that America's relationship with the Muslim community, the Muslim world, cannot and will not just be based on our opposition to terrorism," Obama said. "We seek broader engagement based on mutual interest and mutual respect. We will listen carefully, we will bridge misunderstandings, and we will seek common ground."
He noted his own personal contacts with Islam: he has Muslim relatives in Kenya and he grew up partly in Indonesia, the world's most populous Muslim country.
Pleasing Both Sides
His visit to Turkey had several delicate points, which according to press commentaries, he managed to handle well, One was to get across his message to Muslims, without actually portraying Turkey as an Islamic country.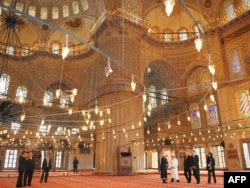 Obama and Erdogan visit the Blue Mosque.
Although most Turks are Muslims, the country's long-influential establishment follows the strict secular line laid out by Mustafa Kemal Ataturk, the father of modern Turkey. They prefer to view Turkey as a European land.
Since Prime Minister Erdogan's Islamic-rooted Justice and Development (AK) party came to power, there has been increasing political and social tension between secularists and Islamists who want to see more Islamic influence in Turkish public life.
On April 7, "The New York Times" said Obama "spoke elegantly to both camps," discussing his personal ties to Islam, and Turkey's "strong and secular democracy," which seemed to satisfy both.
"In the last several years, you've abolished state security courts, you've expanded the right to counsel, you've reformed the Penal Code and strengthened laws that governed the freedom of the press and assembly. You've lifted bans on teaching and broadcasting Kurdish, and the world noted with respect the important signal sent through a new state Kurdish television station," Obama noted.
"These achievements have created new laws that must implemented and a momentum that should be sustained, for democracies cannot be static, they must move forward."
The other delicate matter that Obama is seen to have handled well was the question of the mass killing of Armenians by Ottoman Turks during World War I. He confronted the contentious issue head-on in remarks to journalists, but refrained form using the word "genocide" to describe the killings.
Obama said he is encouraged by moves under Turkish President Abdullah Gul for Turkey and Armenia to engage in talks to resolve this and other issues.
He also met jointly in Istanbul with the foreign ministers of Turkey and Armenia in a bid to encourage the two countries to move forward in a dialogue aimed at normalizing their relations.
compiled from agency reports