(RFE/RL) -- U.S. President Barack Obama has reached an accord with major developing powers on a climate deal in Copenhagen.
A U.S. official is quoted as saying that Obama, China's Prime Minister Wen Jiabao, Indian Prime Minister Manmohan Singh, and South Africa's President Jacob Zuma have reached a "meaningful agreement."
But the U.S. official said the agreement is only a first step and is insufficient to fight climate change.
"No country is entirely satisfied with each element but this is a meaningful and historic step forward and a foundation from which to make further progress," the official added.
Brazil also approved the deal, which appears to bypass other participants at UN-led climate talks in Copenhagen. Noticeably, EU nations were absent from the meeting.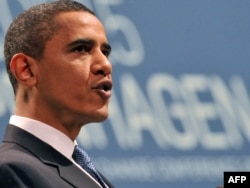 Obama address the UN Climate Change Conference in Copenhagen today.
Under the five-nation agreement, rich and poor nations agree to a "finance mechanism," emissions cuts to curb global warming to 2 degrees Celsius, and "to provide information on the implementation of their actions."
'The Question Is...'
Earlier in the day, Obama had urged world leaders to accept an accord to fight climate change, even if it was imperfect.
More than 100 heads of state and government had gathered in Copenhagen for the final day of the UN climate summit.
Addressing the plenary session of the conference in the Danish capital, Obama said, "The question is whether we will move forward together, or split apart."
And he called for transparency from countries in how their greenhouse gas emissions curbs are checked.
"We must have a mechanism to review whether we are keeping our commitments and exchange this information in a transparent manner. These measures need not be intrusive or infringe upon sovereignty," Obama said.
"They must, however, ensure that an accord is credible and that we are living up to our mutual obligations. Without such accountability, any agreement would be empty words on a page."
The remark sent a clear message to China, which rich nations have accused of seeking to duck United Nations efforts to independently monitor and verify the country's emission levels.
Obama spoke minutes after Chinese Prime Minister Wen Jiabao told delegates that China's actions would be "voluntary" and that the country would be willing to "actively engage in international exchanges and cooperation."
But Wen said China's emissions must continue to grow in order to help lift millions of its citizens out of poverty.
Obama held talks earlier this evening with Wen. The two leaders had already met for nearly an hour earlier in the day. The United States and China are the world's two largest carbon emitters.
Calling For Compromise
Also addressing delegates was UN Secretary-General Ban Ki-moon, who called on world leaders to show "common sense, compromise and courage."
The two-week conference was aimed at agreeing the outline of a treaty that will succeed the Kyoto Protocol, which is due to expire in 2012.
But it stalled over differences between developed and developing countries.
Scientists say a 2-degree limit is the minimum effort to avoid some of the worst impacts of climate change including rises in sea levels, extinctions, and crop failures.
with agency reports