OSH, Kyrgyzstan -- Osh Mayor Melis Myrzakmatov has denied that local law enforcement bodies have abused detainees following the outbreak of interethnic violence last month, and says the majority of the southern Kyrgyz city's citizens oppose the idea of sending an international police force to buttress security.
Myrzakmatov's comments come after UN High Commissioner for Human Rights Navi Pillay alleged on July 20 that "security forces in southern Kyrgyzstan have been responsible for repeated human rights violations against ethnic Uzbeks -- including arbitrary detention, torture, and ill-treatment" in the aftermath of ethnic clashes in mid-June.
The unrest that took place in the regions of Osh and Jalal-Abad left at least 316 people dead and some 400,000 displaced.
Myrzakmatov dismissed Pillay's comments during an exclusive interview in his office as "just another provocative statement, piece of information," before quickly adding that "at least I, as the mayor, don't have such information."
Before the Organization for Security and Cooperation in Europe (OSCE) approved on July 22 sending a 52-strong force to Osh and Jalal-Abad, Myrzakmatov said that "most of the people of this city are against" deploying such a police force.
Myrzakmatov would be inclined to agree with his constituents. He said the OSCE police personnel "don't understand our mentality, customs, or traditions. I should always give heed to the position of our citizens, and so I share their opinion."
Kyrgyz President Roza Otunbaeva agreed on July 16 to the OSCE's proposal to send the advisory force, which will be unarmed and focus mainly on training local police.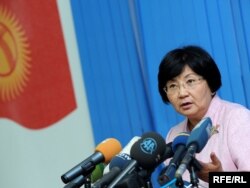 Kyrgyz President Roza Otunbaeva agreed to the OSCE force.
'Widespread Abuse' Of Uzbeks

While Mayor Myrzakmatov suggests that an international force is unneeded, many Uzbek inhabitants of the city asked by RFE/RL said they disagreed.
Forty days after the unrest left many of them without homes and just hours after a security operation in the neighborhood resulted in several young men being detained and several others beaten, residents of the Uzbek community of Kirpichny said on July 20 that the force could not arrive too soon and that the more of them that came, the better.
That sentiment was echoed in the Uzbek neighborhood of Sharq, where a security operation was conducted early on July 21.
Ilya, an Uzbek man in his late 20s who declined to give his full name out of concern for his safety, said as many as 100 soldiers "or at least people in [military] uniforms...came with dogs to search the neighborhood" just that morning.
In the last month, Ilya claimed, five young men from the neighborhood have been detained. "They weren't involved in anything," he said. "We haven't seen them since."
Similar claims have been made by UN High Commissioner for Human Rights Pillay, and by Human Rights Watch (HRW), the international rights watchdog.
"Large numbers of people -- most of them young men, and virtually all of them Uzbek -- have been arbitrarily detained in ways that not only demonstrate flagrant ethnic bias, but also break many of the fundamental tenets of both Kyrgyz and international law," Pillay said in her July 20 statement.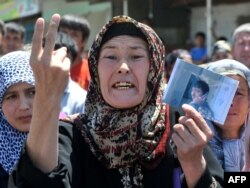 An ethnic Uzbek woman holds a photo of a slain relative during peace rally in Osh last month.
In a July 14 statement in which it called on the OSCE to send an international police force, HRW warned that "continued arbitrary arrests and widespread abuse, including torture, might further destabilize the already tense situation in southern Kyrgyzstan."
Resisting International Pressure
Many local police and soldiers, however, have expressed opposition to the idea of foreigners coming to help restore order. And that prospect along with the allegations made by HRW have led to small protest rallies this week.
On July 19, several dozen demonstrators in Osh demanded that the government revise its approval for an international police force for Kyrgyzstan, according to RFE/RL's Kyrgyz Service.
On July 21, a handful of protesters assembled in front of the OSCE's office in Bishkek to voice their opposition to HRW's claims.
"This is one-sided information. If HRW claims to be an international organization, why does it bring on one-sided facts?! We need the truth!," said Ondurush Toktonasyrov, the head of the April 7 movement.
Toktonasyrov also demanded that "no single HRW employee" be allowed on the international commission proposed by President Otunbaeva to look into the Osh violence.
When asked to comment on the rally, Burul Osmonalieva, a representative of the OSCE center in Bishkek, said the protesters' demands do not pertain to the OSCE, because HRW is an independent, international, nongovernmental organization.
Osmonalieva added that the OSCE has no role in the commission proposed by Otunbaeva, which has yet to be created in any case.