Pakistan Offensive Felt In Eastern Afghanistan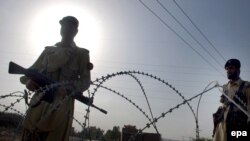 Fighting erupted in eastern Afghanistan on June 30 and July 1 after militants crossed the border from Pakistan to attack Afghan and international forces, according to NATO and Afghan officials. In at least one of those cases, NATO officials said, the fighters were chased out of Afghan territory only to be set on by Pakistani troops.
The coordinated response -- along with aspects of the Khyber operation -- suggest that NATO and Pakistani forces battling militants on both sides of the border are achieving a new level of cooperation as efforts intensify in Pakistan's tribal areas and in neighboring Afghanistan.
Pakistani government troops are continuing an offensive against pro-Taliban militants in the Khyber tribal region near the city of Peshawar -- an operation that appears to be having significant impact across the border in eastern Afghanistan.
"The Afghan authorities have always said that if Pakistan's government does not prevent cross-border activities by the militias, they will pose a serious threat to Pakistan's government itself," former Afghan Interior Minister Ali Ahmad Jalali, who is a professor at the Near East South Asia center for Strategic Studies at the National Defense University in Washington, told RFE/RL. "The security situation inside Peshawar is now worse than the security situation inside most Afghan cities. Therefore, the first phase of this Pakistani military activity is aimed at forcing these militants out of these areas."
Jalali expressed his "hope [that] this operation continues until it creates such a situation that, on one hand, it destroys the strongholds of the militants inside Pakistan from which they attack NATO and Afghan forces across the borer, and on the other hand, until it creates such a situation in [Pakistan's] tribal areas that militants no longer pose any threat to Pakistan or Afghanistan or the region."
NATO's commander in eastern Afghanistan, U.S. Army Major General Jeffrey Schloesser, told reporters in Washington last week that the activities of militants in eastern Afghanistan were certainly of a cross-border nature.
"The enemy is taking refuge and operating with what I would call some freedom of movement in the border region," Schloesser said. "And they are using this sanctuary to reconstitute, to plan, and to launch attacks into Afghanistan."
Schloesser added that the tactics of pro-Taliban militants crossing into Afghanistan from Pakistan were becoming more complex and more strategic.
"The attacks that I've seen from the enemies -- they are not really effective in lethality. But we are noting that they are increasingly more complex," Schloesser said. "They are clearly designed to attack at the strategic level the population and to try to de-link the population of Afghanistan [from] their governance, as well as anybody who is here that is trying to help them."
Tense Backdrop
The cooperation early this week between NATO and Pakistani forces along the border comes at a time when Pakistan's relations with the United States and Afghanistan are tense.
Afghan President Hamid Karzai threatened last month to send Afghan forces into Pakistan's tribal areas if Islamabad failed to stop cross-border attacks into Afghanistan by militants.
Meanwhile, Washington and Islamabad have traded accusations over a U.S. air strike last month that killed 11 Pakistani troops. Islamabad called the air strike a violation of Pakistan's sovereignty. But the Pentagon accused the Pakistani troops of crossing into Afghanistan themselves in order to attack NATO forces.
Nasrullah Stanikzai, a professor at the law faculty of Kabul University, called Pakistan's military offensive an attempt by Islamabad to improve relations and win more Western aid.
Waheed Muzda, an independent Kabul-based analyst on Afghanistan, agreed that Islamabad would like to get more aid from the West.
"The Pakistani government, by carrying out different policies, is trying to make the United States and the international community pay more attention to Pakistan [for aid and other privileges]," Muzda said.
Talks A Failure?
Meanwhile, Afghan experts said Islamabad was right to launch military operations against pro-Taliban militants in Pakistan rather than trying to reach peace deals with them through negotiations.
Jalali said previous negotiations between Pakistani officials and pro-Taliban militants have shown that peace talks merely take pressure off militants -- allowing them to carry out more cross-border attacks in Afghanistan.
He cited a rise in violence after talks with "extremist groups" in Waziristan two years ago, and said the current talks had also led to increased bloodshed in Afghanistan.
"This is the main concern of Afghan and U.S. authorities," Jalali said. "If Pakistan thinks negotiations with militias improve security in Pakistan but cause insecurity in Afghanistan, that means the talks do not work -- [they] will not be to the benefit of Afghanistan or Pakistan or the international community. This means that the extremists and militia groups have become a serious threat to Pakistan in the long term."
Pakistani Prime Minister Yousuf Raza Gilani said on June 28 that his government was ready to negotiate with those who put down their weapons. Gilani said his government still supported the idea of a peace deal with those who want security in the tribal regions. But he said Pakistan would continue to use force against those causing insecurity.
RFE/RL Radio Free Afghanistan correspondents Qadir Habib and Mustafa Sarwar contributed to this report from Prague