Pakistani Lawyers' 'Long March' Throws Down Gauntlet To Civilian Government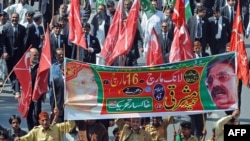 In the port city of Karachi, the chants of lawyers and other activists were loud and clear: "Iftikhar! Iftikhar! Iftikhar!"
The protesters, launching their nearly 1,000-kilometer journey to Islamabad where they will join up with other activists next week, were demanding the government fulfill its pledge to reinstate former Supreme Court Chief Justice Iftikhar Muhammad Chaudhry.
His dismissal by former President Pervez Musharraf in 2007 set off a nationwide protest movement by Pakistani lawyers demanding that the judiciary be kept free of political influence.
Hundreds of other lawyers and activists kicked off similar protest marches elsewhere on March 12. They plan to converge on the capital on March 16 for a massive demonstration outside parliament that risks destabilizing the Zardari government, even as it scrambles to cope with an Islamist insurgency that has spread from the Afghan border to the country's heartland.
Although police on March 11 detained hundreds of activists and banned rallies, Interior Ministry chief Rehman Malik said the marches from the cities of Karachi and Quetta would be allowed to go ahead.
Political tensions were sharpened last month after a Supreme Court decision banned former Prime Minister Nawaz Sharif, a key opposition leader, from holding elected office. The ban also applied to Sharif's brother.
The court decision cost Sharif's Pakistan Muslim League Nawaz (PML-N) its provincial government in Punjab, the most populous and prosperous Pakistani province.
Legal Wrangling
But it also gave fresh impetus to the lawyers' movement, while pitting the country's two largest political parties, the PML-N and the governing Pakistan People's Party (PPP), against each other.
Ali Ahmad Kurd, president of the Supreme Court Bar Association, is leading the protest march from the southwestern city of Quetta. He told RFE/RL's Radio Free Afghanistan that the lawyers' sacrifices over the past two years would not be wasted.
"The lawyers' movement is at its peak," Kurd said, adding that "you will see that and hundreds of thousands of people will go to the sit-in [to Islamabad], along with thousands of their friends. Inshallah, we will see that the chief justice will be reinstated, along with his friends."
The protest represents a major challenge for the Zardari government, which besides the Islamist insurgency is also grappling with a failing domestic economy and the global financial crisis.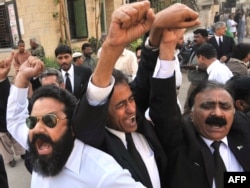 Lawyers march in Karachi.
Many see Zardari as reluctant to reinstate Chaudhry, because the former chief justice would likely overturn an amnesty that enabled Zardari to assume political office. Numerous corruption cases against Zardari, the widower of former Prime Minister Benazir Bhutto, were also closed.
But Zardari's supporters point to his reinstatement of most of the more than 60 judges sacked by Musharraf as proof of his commitment to the rule of law and to the restoration of democracy after a decade of military rule.
But they also say that Chaudhry, because of his activism the past two years, is now too political and thus unfit for heading the country's judiciary.
But Kamran Arif, a leader of the lawyers' movement and Chaudhry supporter in the northwestern city of Peshawar, says many Pakistanis are displeased with the performance of the government. It had promised democracy, security, and reinstatement of judges, he says, but now it's acting like an authoritarian regime.
Arif says that there is frustration "partly because of the new government bringing no change.... As far as the lawyers' movement and the objectives that the lawyers wanted to achieve -- that is an independent judiciary -- there is a popular dissatisfaction."
Extremist Concerns
The political showdown, meanwhile, has fuelled concerns that the chaos will only benefit extremists who might use it to extend their reach and strengthen control over certain regions.
In what was seen a bid to diffuse tensions, Anne Patterson, the U.S. ambassador to Pakistan, met with Sharif in the eastern city of Lahore. A spokesman for Sharif said they discussed "the current political situation and means to resolve it."
Pakistani politicians are famous for compromise. But the lawyers for now appear adamant about following through with their march all the way to Islamabad -- whatever the consequences may be.
Speaking in Quetta, Kurd said the lawyers will not be deterred by government warnings that have suggested that extremists might target their march.
"I want to make it clear that we have been peaceful for the last two years, and we are peaceful at the moment, but our way should not be blocked."
RFE/RL's Radio Free Afghanistan correspondent Barakwal Miankhel contributed to this article