Pakistani President Gives PM Control Over Nuclear Arsenal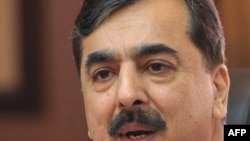 ISLAMABAD, Nov 29 (Reuters) - Pakistan's president has transferred authority over the nation's nuclear weapons to the prime ministership, as the unpopular leader tries to deflect growing criticism that he has too much power.

President Asif Ali Zardari, beset by corruption allegations, has been under pressure to give up sweeping powers that his predecessor Pervez Musharraf accumulated for the presidency.

The transfer of the chairmanship of the National Command Authority (NCA), which oversees Pakistan's nuclear arsenal, came as Zardari could face pressure after the lapse of an amnesty opened several of his top aides to prosecution on graft charges.

That amnesty, and growing criticism that Zardari has too much power, may herald more political instability in Pakistan, worrying the United States and its allies as the government also gets increasingly embroiled in a war against Islamist militants.

Key cabinet ministers and the army, navy, and air force heads are also members of the NCA, which controls the country's nuclear program, including deployment and the use of the weapons.

However, the military manages and controls the nuclear weapons on behalf of the NCA.

Prime Minister Yusuf Raza Gilani told reporters the transfer of the chairmanship was "a true litmus test" of relations between him and Zardari.

"He who himself was chairman of the NCA has given that authority to the prime minister. What more powers can there be than this, which a prime minister should have?" Gilani asked reporters late on November 28.

Pakistan set up the NCA in 2000, two years after it conducted nuclear tests. Musharraf introduced the ordinance in 2007.

Zardari took over as president last year after the assassination of his wife, former prime minister Benazir Bhutto, in late 2007.

Dogged by accusations of graft during Bhutto's two terms as prime minister in the 1990s, Zardari has never enjoyed the popularity of his charismatic wife and has been facing a barrage of attacks from hostile sections of the media.

The opposition to Zardari has been building as the army has been battling Islamist militants in the northwest who have responded with a wave of bomb attacks.

The powerful military, which has ruled the country for more than half its history, has had differences with Zardari over a U.S. aid package which critics said imposed conditions on Pakistan that undermined its sovereignty.

Analysts say while there is a degree of distrust between the military and Zardari, the military is led by a general who has vowed to stay out of politics and there is little chance of it directly intervening at the moment.

Gilani, a top member of Zardari's Pakistan People's Party, dismissed talk of any threat to the government.

"We are moving straight and in the right direction. God willing, there is no threat to this government," he said.

A Musharraf ordinance that lapsed on November 28 was an amnesty that covered about 8,000 people facing various charges, including Zardari and four cabinet ministers.

Zardari cannot be prosecuted because of presidential immunity, although the re-opening of corruption cases involving people close to him could further weaken him.